Intelligent Gift Card Solutions for Franchises
Naturally, your franchise's gift cards are available for purchase and redemption both online and in-store. After all, you wouldn't want to leave any revenue on the table. Our streamlined solutions make it easy for everyone, from franchise owners to accountants and brand managers. Intrigued? Let's discuss.
"
A good gift voucher system for multiple locations and attractive for our guests.
"
Wobbe van Zoelen | Anne & Max
Strengthen Your Brand
Satisfied customers are your best brand ambassadors. Why not encourage them by offering gift cards? A happy customer will gift their positive experience to someone else, expanding your customer base, increasing your revenue, and enhancing the visibility of your brand. That's smart business.
Available at All Locations
Sell gift cards across all your locations, effortlessly. Cards are instantly linked to the relevant outlet and can be easily loaded with any desired amount. Set automatic refills for each location, so you never run out of stock.
Real-Time Insights by Location
If your gift cards are redeemable at multiple locations, you'd want a seamless backend operation. Our dashboard provides real-time insights into how many cards are sold and redeemed at each location. Convenience at your fingertips.
Easy Payouts
We'll transfer the funds from all sold gift cards to you. Want to periodically disburse the redeemed amounts to your franchisees? We make it easy. Simply select the relevant period, download the SEPA file to upload to your bank, and pay everyone. All with a single click.
"
Specific wishes are followed up quickly. In short, we are very satisfied.
"
Koen Voeten | De Pannenkoekenbakker
Tailored Solutions
Have specific ideas or requirements for your gift cards? We at Gifty are all ears. We're also open to suggestions and improvements. Let's innovate together.
Always Open
Your franchise's gift cards are available 24/7. Ideal for the busy, forgetful, or simply thoughtful. And the best part? It's entirely hands-off for you as a business owner. With our order module, it's fully automated. Queries about gift cards can be directed to us, while new customers come to you. Sound good?
"
A pleasant collaboration and a great solution with a great end result!
"
Mireille Sanches | Vegan Junk Food Bar
Comprehensive Package
We design attractive gift cards and durable, festive packaging that aligns with your brand identity. Available for purchase in-store or online, we handle ordering, payment, and shipping seamlessly. Whether via post or email, we deliver directly to your customers. Leave the entire process to us and win points with your clientele.
The Looks
We appreciate good design, and that's why we print the most stunning gift cards on high-quality paper with a silky-smooth coating. Whether it's a physical card or a digital one that pops off the screen, the design can be customized to match your brand. Need help? Our designers are more than willing to assist, at no extra charge. Get samples
Reward or Compensate
Want to reward a customer or offer a courteous compensation? A digital gift card is a thoughtful and straightforward gesture. Simply enter the amount and email it directly to your customer. Much appreciated!
of all gift cards are never redeemed. Yet, they are paid out.
Clear Pricing
Gifty charges a flat fee per sold card, providing you with complete transparency. And here's a bonus: we payout every sold gift card, even if it's not redeemed. Did you know that, on average, 23% of cards are never used?
Shipping & Payment
We think globally, which is why we can dispatch your gift cards to 11 different countries, hassle-free. We offer a range of payment options including iDEAL, credit card, and Bancontact.
"
Support is fast and above all personal, always a direct answer if I have a question.
"
Elvira Wilthagen | Eden Hotels
Customer Service
Questions about lost or expired gift cards, delivery issues, or payment confirmations can be a distraction. Our customer service team is happy to take that off your plate. Any and all questions from customers are handled efficiently by us. Rest assured.
Endless Integrations!
Whether you're looking to accept gift cards in your online store, facilitate online bookings, or integrate with your POS system — our solutions have you covered. Want to develop your own? Go ahead, our API is at your disposal.
Whether your customers are happy with Gifty?
"The gift cards were delivered super fast and nicely wrapped. Very surprised."
jaen***@r**.nl
"Super easy, I'm not handy with these things but this goes without saying."
M Haren
"The gift card from JEU de boules bar directly in my mailbox, great!"
b***ald@b**.com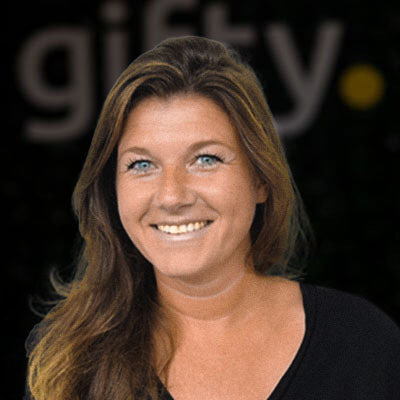 Interested in our gift card solutions for franchises?
We'd love to share more. Feel free to call Loes for a chat. Alternatively, you can also email, chat, or message us.