Digital Gift Cards
Creating digital gift cards is a breeze. Choose any amount or package deal you like. Whether you want to download, email instantly, issue singly or in bulk — the choice is yours!
"
It's convenient for our businesses to directly email gift cards to their customers.
"
Natascha Heemskerk | 3WO
Reward or Compensate
Looking to reward a loyal customer? Or perhaps you need to offer compensation? A digital gift card is an easy and thoughtful way to do it. Simply fill it out and email it directly. It's always appreciated!
Perfect for Marketing
Our dashboard is a nifty tool, not just for customizing the amounts and package deals. It's also ideal for your marketing efforts; effortlessly surprise your customers with a little gift. How about emailing them a gift card for a free cup of coffee or a half-price treatment? Your imagination is the limit!
Single or Bulk Orders
Got a big order for digital gift cards for your business? Great! Easily create them yourself through the dashboard; input the amount or choose from the package deals you offer.
Visual Appeal
The design of your digital gift card is just as slick as our email gift cards. They come in a sleek PDF format and mirror your brand's style. Curious?
"
Gifty is simple and fast. Everything sorted from A to Z within minutes.
"
Nico van Leeuwen | The Seafood Bar
Download or Email
You can download your digital gift cards as PDFs or send them straight from the dashboard. Whether it's to a single recipient or multiple email addresses, it's equally straightforward.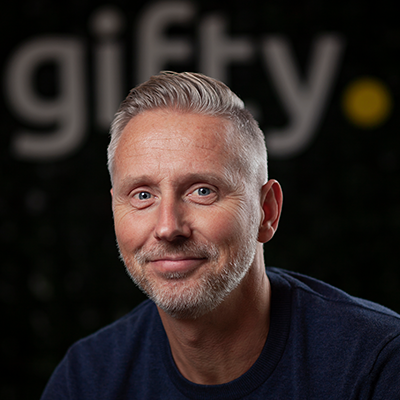 Want to know more
about digital gift cards?
Bring it on; Sjon is ready to chat, email, WhatsApp, or take your call.
Trust us, the guy knows his stuff.