Boost Traffic and Conversion Rates
Every startup and digital marketer is obsessed with this: amplifying traffic and conversion rates on their platforms. At Gifty, we're masters of this domain, which is why we offer you our intelligent gift card solutions. In essence, we transform your platform into a gift that keeps on giving. The best part? You don't have to build a thing, and soon your customers can gift your services or products. Sounds awesome, right?
Seamless Integration
Effortlessly link your platform with our gift card solutions through our robust API and order module. This ensures that your gift cards are sent out 24/7 via email and post, and they're instantly redeemable at your checkout. Time to scale up!
Digital Cards
Cooked up a brilliant marketing campaign or partnership to elevate your platform? Fantastic! Use our convenient digital gift card function to distribute cards effortlessly. You can set this up directly via your dashboard. Let's go!
Always Open for Business
Your platform's gift card is available around the clock. This is a godsend for those who are busy, forgetful, or simply thoughtful. And let's not forget: it all runs on autopilot with our order module. Leave the nitty-gritty of gift card queries to us; focus on acquiring new customers. How does that sound?
"
Our developers were able to easily integrate the Gifty API into our platform
"
Egan van Dooren | Origineel Overnachten
The Complete Package
For platforms, we design visually stunning gift cards and robust, festive packaging that aligns perfectly with your brand. Ordering, payment, and shipping are all handled seamlessly. Whether via post or email, these go directly to your customer. Trust us to manage the entire process — you'll earn major brownie points with your clientele.
The Looks
Let's face it, appearances do matter. That's why we print the highest quality gift cards for the leisure sector on premium, silky-smooth coated paper. Our digital cards are equally striking, designed to pop off the screen and make the recipient truly feel special. Customize the design in your own branding, and if you need help, our designers are on standby. And guess what? It's on the house. Get samples
Reward or Compensate
Looking to reward a customer or offer compensation? A digital gift card is a quick and appreciated gesture. Just enter the amount and shoot it over via email. Simple as that.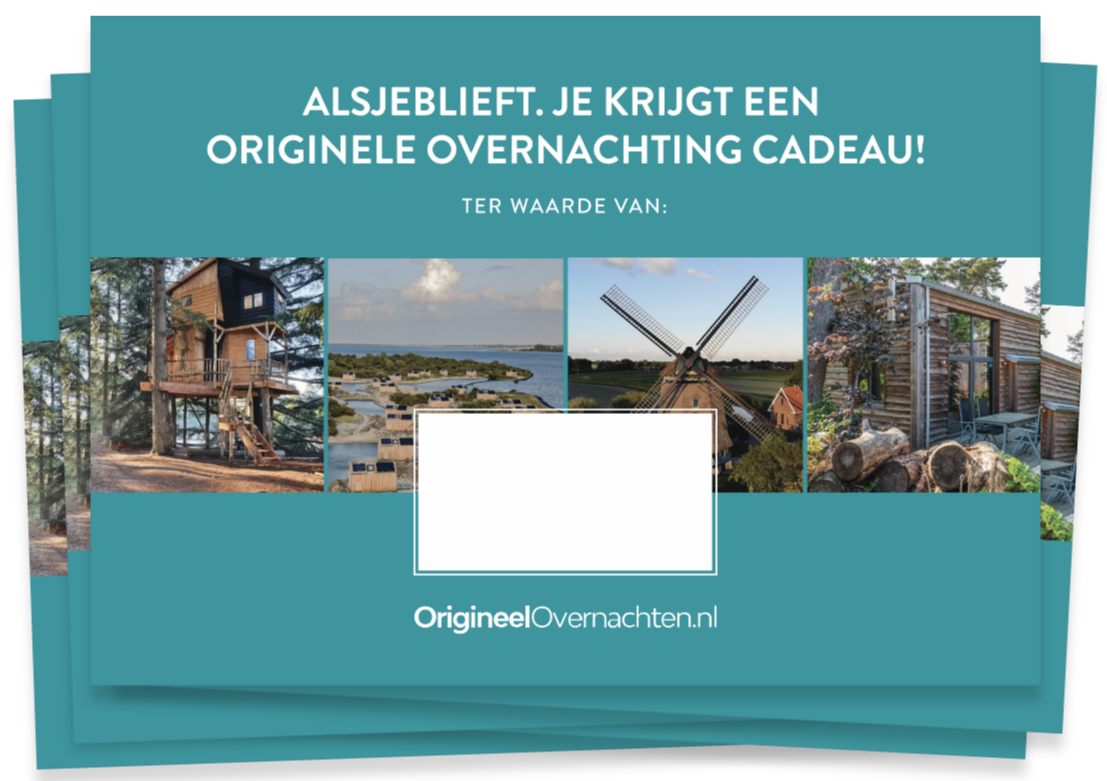 Bulk Orders
Landed a lucrative business deal with a corporation, foundation, or sports club? Sweet! We can manage large orders of physical gift cards with activated values, and ship them securely to your customer.
of all gift cards are never redeemed. Yet, they are paid out.
Transparent Pricing
At Gifty, we charge a flat fee per card sold—no variable commissions. You always know where you stand. Here's the kicker: we pay you for every gift card sold, even if it's never redeemed. Did you know that, on average, 23% of gift cards are never used?
International Shipping & Payments
We like to think beyond borders. That's why we offer shipping to 11 other countries, no sweat. We're also flexible when it comes to payment options: iDEAL, credit card or Bancontact — we've got you covered.
"
Excellent service and helpful support team! Very satisfied!
"
Dijon Waccary | Cheflix
Customer Service
Lost your gift card? Is it still valid? Questions about delivery or payment? Inquiries about gift cards can be time-consuming and often come at inopportune moments. Our customer service team takes that burden off your shoulders. Whether via email, chat, or phone, Gifty has got you sorted.
Whether your customers are happy with Gifty?
"The gift cards were delivered super fast and nicely wrapped. Very surprised."
jaen***@r**.nl
"Super easy, I'm not handy with these things but this goes without saying."
M Haren
"The gift card from JEU de boules bar directly in my mailbox, great!"
b***ald@b**.com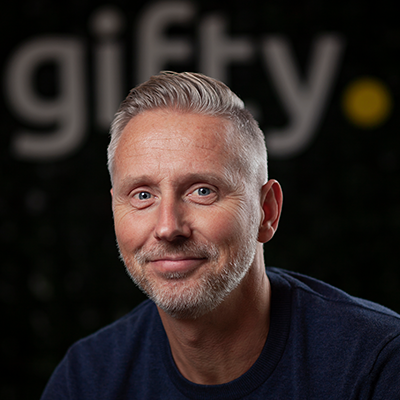 Want to learn more about our gift card solutions for platforms?
We get it! Reach out to Sjon through a call, email, chat, or message. He's the go-to guy.