App & Dashboard
Manage your gift card sales, redeems, and inventory all through our intuitive dashboard and app. Here you can easily modify your card designs and check real-time statistics. How convenient is that!
"
Everything runs smoothly with Gifty's software and support.
"
Bram de Jong | Detailhandelsraad Hoeksche Waard
Easy Redeeming & Issuing
It's not just the sale of your gift cards that's streamlined; redeeming them is also a breeze. Customer wants to spend their balance in installments? No problem at all, thanks to the dashboard, the Gifty app, or your point-of-sale system.
Settings
Your Gifty environment is packed with useful settings. Whether it's for the order module, payment options, package deals, or statistics—you name it. Curious to learn how it works? Request a demo.
Design
Customize your gift card design using our design tool. It's simple, and no technical knowledge is required. Alternatively, you can upload a print-ready file in your own branding. Simple as that.
"
All the work has been taken off your hands, with instant insights into how many cards you've sold.
"
Yvonne Littooij | Stayokay
Real-time Insights
Want to know how you're doing? All gift card figures are available in real-time, covering both your online sales and in-store distributions. View your results by location, time period, or employee. Instantly at your fingertips.
Ordering
Order new physical gift cards and packaging with ease through the dashboard. Or set it up so that they're automatically replenished before you run out. Digital gift cards can be downloaded or emailed directly.
Assign permissions for up to 500 employees.
Employees
Do you want to limit employee access to just redeeming gift cards or also selling them? And who can view the financials? Easily set these permissions yourself, making fraud a thing of the past.
Multiple Locations
Operating across multiple locations where your gift card can be purchased or redeemed? Our reconciliation overview will make your life easier. See exactly how much has been sold and redeemed at each location over any given period.
Gifty.nl/discover
Want to list your gift card on Gifty.nl/discover? It's possible and comes at no extra cost. Simply fill in information about your business and set your keywords for optimal searchability. Bingo!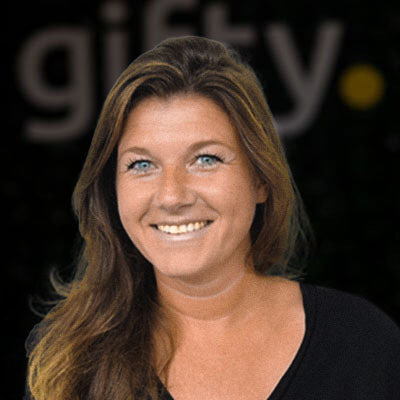 Want to know more about our app and dashboard?
Thought so! Loes is eagerly awaiting your message. She's reachable via email, chat, app, and phone.