Effortless Gift Card Solutions for Hotels
Smart idea, those gift cards for a fun outing or weekend getaway. They're always a popular gift. With your own branded gift card, you'll attract new guests, secure more overnight stays, and ultimately increase revenue. After all, a stay at your hotel is truly a gift, isn't it? Our clever solutions make it simple for you. Want to know more?
of guests visit a hotel for the first time because of a gift card.
Guaranteed Extra Guests
Want to be sure of attracting extra guests? It's simple: gift cards issued by your hotel can only be redeemed there.
The convenience and speed of purchasing your gift card is essential for boosting sales.
Plus, guests often come in pairs and usually spend more than the value of the gift card itself.
Gift Cards at Your Hotel
Your gift cards can naturally be purchased at the hotel itself. Elegantly displayed at the front desk, you're likely to sell 30% more gift cards. Gifty is packed with smart features that lighten the load for your front-office team, like automatic inventory replenishment. And you'll receive a free counter display from us.
Online Reservations
Want guests to be able to redeem your gift cards while booking online? Use our plugins or easily integrate your reservation module with our API. The card can also be redeemed through the handy Gifty app or dashboard.
Always Open
Your hotel's gift card is now available for purchase 24/7 — convenient for busy, forgetful, or simply thoughtful people. With our order module, everything is completely automated. Questions about gift cards can go to us; new guests can head your way. A winning formula?
"
Gifty saves us a lot of time, and the cards look great too.
"
Jill Stokermans | Huis Ter Duin
Seamless Administration
Say goodbye to cumbersome Excel sheets, self-generated codes, and other hassles. We make life easy by keeping track of all your gift cards. So, you can view real-time statistics: how many have been sold or redeemed? How much revenue has been generated, and what's still outstanding? It's all a breeze.
Easy Gifting
Receiving a gift card from your hotel is awesome, but giving one is fun too. And it's easy for everyone to do. With the order module on your website, it's a cinch. And the lucky recipient? They'll either get it straight to their inbox or beautifully wrapped in their mailbox. Hooray!
The Complete Package
For your hotel, we create beautiful gift cards and sturdy, festive packaging that aligns with your branding. Available for purchase both in your hotel and online. From ordering, payment, to shipping, we've got it all smoothly coordinated. Delivery can be by post or email, directly to your customer. Leave the entire process to us; your guests will appreciate it.
"
No more fuss with orders, payments, and shipping; easy to set up on the site.
"
Yvonne Littooij | Stayokay
The Looks
We admit, we love good design. That's why we print your gift cards on high-quality, silky-coated paper. The physical card is housed in a sturdy FSC-paper sleeve. Our digital card is equally impressive, popping off the screen and can be proudly emailed to the lucky recipient. Need help with design? Our designers are happy to assist — free of charge. Get samples
Amount or Package
What types of gift cards you offer is entirely up to you. A monetary value? Or perhaps a complete package deal like a dinner for two or a romantic overnight stay? Manage all your settings easily in the dashboard.
Determine the permissions of up to 500 employees.
Employee Activity Tracking
From financial overview to design adjustments and new gift card orders, not everyone needs the same access. Set permissions easily in the dashboard. The transaction overview shows real-time data on sold and redeemed gift cards per employee.
"
It's convenient for our business to email gift cards directly to guests.
"
Natascha Heemskerk | 3WO
Reward or Compensate
Want to reward a guest or offer a nice compensation? A digital gift card is a quick and thoughtful gesture. Simply enter the amount and email it directly to the guest. It's sure to be appreciated.
of all gift cards are never redeemed, but are still paid out.
No Hidden Fees
Gifty charges a fixed fee per sold card, so you know exactly what to expect. And the best part? We payout every sold gift card to you, even if it's never redeemed. Psst, did you know that on average, 23% of cards are never redeemed?
Shipping & Payment
We think globally for you. That's why we can zip your gift cards to 11 other countries, no problem. We also offer flexible payment options: iDEAL, credit card or Bancontact; we've got you covered.
"
Support is fast and still personal; always a direct answer when I have a question.
"
Elvira Wilthagen | Eden Hotels
Customer Service
Help, I lost my gift card! Is it still valid? What about delivery? Did my payment go through? Questions about gift cards can be time-consuming and inconvenient. Let our customer service handle that for you. Any inquiries from guests can go to us, via email, app, chat, or phone. Gifty takes care of it all.
Multiple Locations
Is your hotel's gift card redeemable at multiple locations? Or perhaps at both the hotel and its restaurant? Then you'll want seamless backend management. The dashboard shows you exactly how many cards have been sold and redeemed at each location.
Bulk Orders
Closed a cool business deal with a company, foundation, or sports club? Nice! You'll need a large batch of physical gift cards. No worries, we've got it covered. We print the gift cards with activated values and ship them securely to your customer.
Endless Integrations!
Whether you're looking to accept gift cards in your online store, facilitate online bookings, or integrate with your POS system — our solutions have you covered. Want to develop your own? Go ahead, our API is at your disposal.
Whether your customers are happy with Gifty?
"The gift cards were delivered super fast and nicely wrapped. Very surprised."
jaen***@r**.nl
"Super easy, I'm not handy with these things but this goes without saying."
M Haren
"The gift card from JEU de boules bar directly in my mailbox, great!"
b***ald@b**.com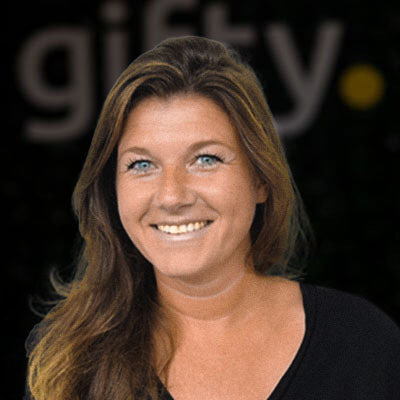 Want to know more about our gift card solutions for hotels?
Loes warmly welcomes you via email, chat, or app. A phone call works just as well.