Your Webshop as a Gift
Dreaming of a flood of visitors browsing through your exquisite online inventory? Time to wake up; let's make it happen! With your own customized gift cards, boosting your webshop's popularity is a breeze. Leave it to us and just watch your revenue soar. Intrigued? We thought you might be.
Visits a webshop for the first time through a gift card.
Guaranteed More Online Orders!
How do we guarantee new customers? Simple: Your gift cards can only be redeemed in your webshop. And once customers are there, they often end up spending more than the gift card's value. With your stellar range of products, it's a given. Until next time!
Accept Gift Cards in Your Webshop
Want your gift cards to be a legit payment method and allow partial redemptions? No problem! Install our WooCommerce or Magento plugin, or easily integrate with our API. If you hit a snag, our tech wizards will swoop in. They live for this stuff.
Physical Gift Cards by Mail
Your webshop is a hit, and everyone should know it. With our eye-catching, uniquely designed gift cards, you're bound to stand out. Sent by post, these physical cards make their way from hand to hand, becoming the talk of the town, which is exactly what you want. Your webshop's gift cards are not only eye candy but also a revenue booster.
Always Open
Your webshop's gift card is available 24/7. Perfect for busy bees, forgetful minds, or just thoughtful souls. What's even better? You don't have to lift a finger. Our order module takes care of everything automatically. Inquiries about gift cards can come to us, while new customers head your way. How's that sound?
"
Paying with the gift card in our webshop was quickly arranged by the Magento plugin.
"
Hugo de Groot | Parfumerie.nl
The Full Package
We craft visually appealing gift cards and robust, festive packaging tailored to your brand identity. Available both in your webshop and online, we handle ordering, payment, and shipping seamlessly. Sent directly to your customer via post or email, just leave the entire process to us. It's a surefire way to win over your customers.
Easily Gift(y)able
The recipient will be over the moon, but don't forget the giver. Gifting has never been this simple. Even Aunt Sue from Timbuktu would be thrilled. A popular gift, beautifully packaged, and sorted in no time. Our order module in your webshop makes it all possible, shipped directly via post or email. Hooray!
"
Gifty thought along with the design of our cards from the first moment, very happy with it!
"
Michael Plat | Seemly
The Looks
We admit, we're suckers for aesthetics. We print top-tier gift cards for the leisure sector on heavy-duty paper with a silky finish. The physical cards come in a durable FSC-paper sleeve. Our digital cards are equally striking, popping off the screen and ready to be proudly emailed to the lucky recipient. Need help with the design? Our creative team is more than happy to assist. And guess what? It's on the house. Get samples
"
Our gift cards can now be spent in the webshop, bar and shop. Ideal!
"
Walt Hahn " Heeren Van De Wijn
Reward or Compensate
Looking to reward a loyal customer or offer compensation for an issue? A digital gift card is a quick and gracious gesture. Just fill in the amount and email it directly to your customer. Always appreciated.
of all gift cards are never redeemed. Yet, they are paid out.
Clear Pricing
At Gifty, we charge a flat fee per sold card, not variable commissions. You always know what to expect. Plus, every sold gift card is paid out to you, even if it's never redeemed. Psst, did you know that on average 23% of gift cards are never cashed in?
"
Quick response and my request was immediately met without any hassle.
"
Sebastiaan
Customer Service
Lost gift cards, validity queries, delivery questions, payment concerns? Gift card issues can be time-consuming and inconvenient. Our customer service gladly takes that burden off your shoulders. Any and all inquiries can come to us via email, app, chat, or phone. We've got it covered.
Whether your customers are happy with Gifty?
"The gift cards were delivered super fast and nicely wrapped. Very surprised."
jaen***@r**.nl
"Super easy, I'm not handy with these things but this goes without saying."
M Haren
"The gift card from JEU de boules bar directly in my mailbox, great!"
b***ald@b**.com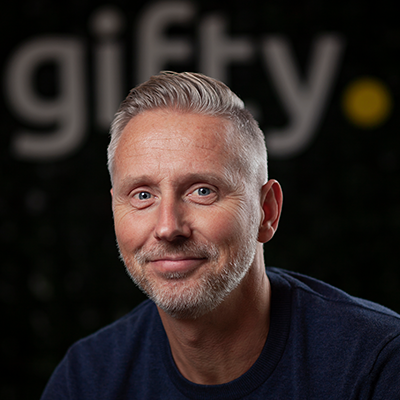 Curious about gift card solutions for your webshop?
Awesome! Let's chat. You can reach out to our Sjon through various channels: email, pigeon post, instant messaging, you name it!