Printing and shipping service
Your gift cards are professionally printed. Then we send them festively wrapped to your customer or directly to your business. Anything is possible.
"
It's nice that we don't have to go to the mailbox anymore.
"
Elmer van Vught | Kabelwaterskibaan.nl
Shipped the same day
We won't disappoint your customers. Orders placed on weekdays before 3:30pm, will be posted the same day. This way, it quickly falls on your customer's door mat, without you having to worry about it.
State of the art printing
We print the wrapping and gift card super-fancy with the best machines. A professional image of your business; That's important. We make your customers proud givers of the gift card. That's how we do it.
"
It's great that the gift cards fit with our brand and that it makes our fans happy too.
"
Ron Simpson | The Avocado Show
Free design service
A karting track is not a hair salon and a wine bar is not a wellness. Every company has its own identity. The gift cards and wrappings have their own look. You design it yourself or leave it to us. We do it with love and for free.
Never miss out
If your gift cards are about to run out, our printing presses are already on. Decide for yourself at what number you want to receive the new stock of gift cards and everything will go automatically. No more remembering, never forgetting, but never get out of stock either. Yoohoo!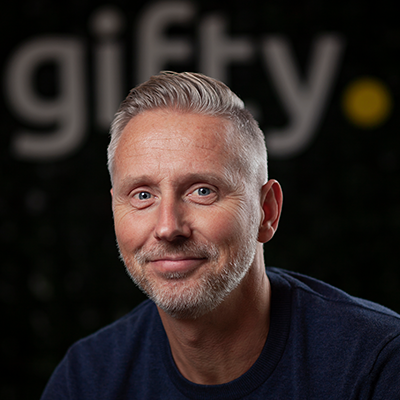 Want to know more about our printing and shipping services?
We'd love to tell you more about it. Sjon is your man and is eagerly waiting for your message. Mail, chat, app or call it.