Gift card tools for Beauty & Wellness
Smart, those gift vouchers from your sauna, spa or wellness. Or from your wonderful beauty or massage parlour. Because let's be honest: these are the gifts that everyone likes to receive and give. Our gift voucher tools take a lot off your hands as an entrepreneur, which is nice; you need them for your beautiful profession. Curious how we can arrange that in a relaxed manner?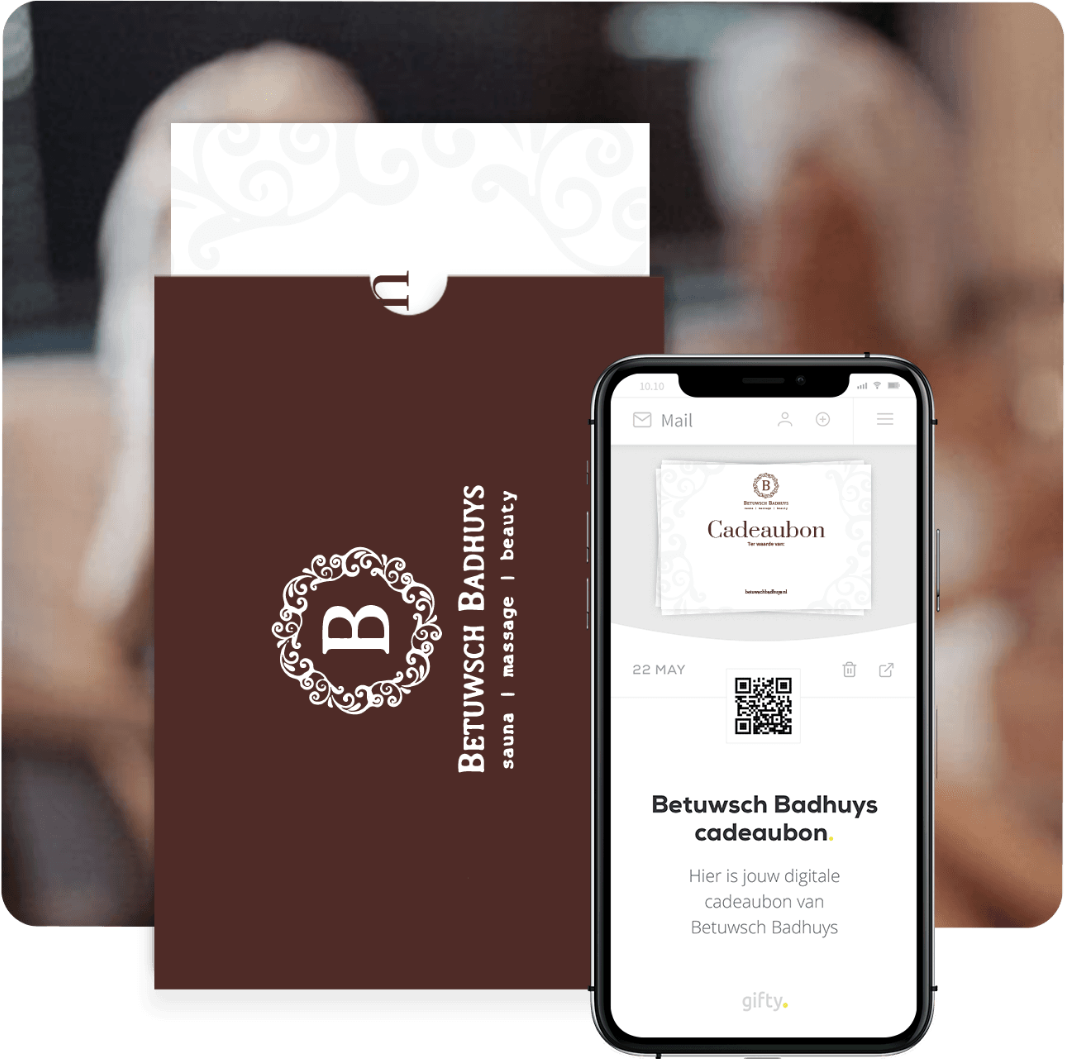 "
Gifty takes a lot of work off our hands and the online sale of gift vouchers has increased enormously!
"
Vera van der Heijden | Betuwsch Badhuys
The whole package
For beauty and wellness matters we make beautiful gift vouchers and festive packaging in the right house style. For sale at your store, but also online. We arrange ordering, payment and smooth shipping. Sending is done by post or e-mail and directly to your customer. Just leave the entire process to us. Score points with your customers.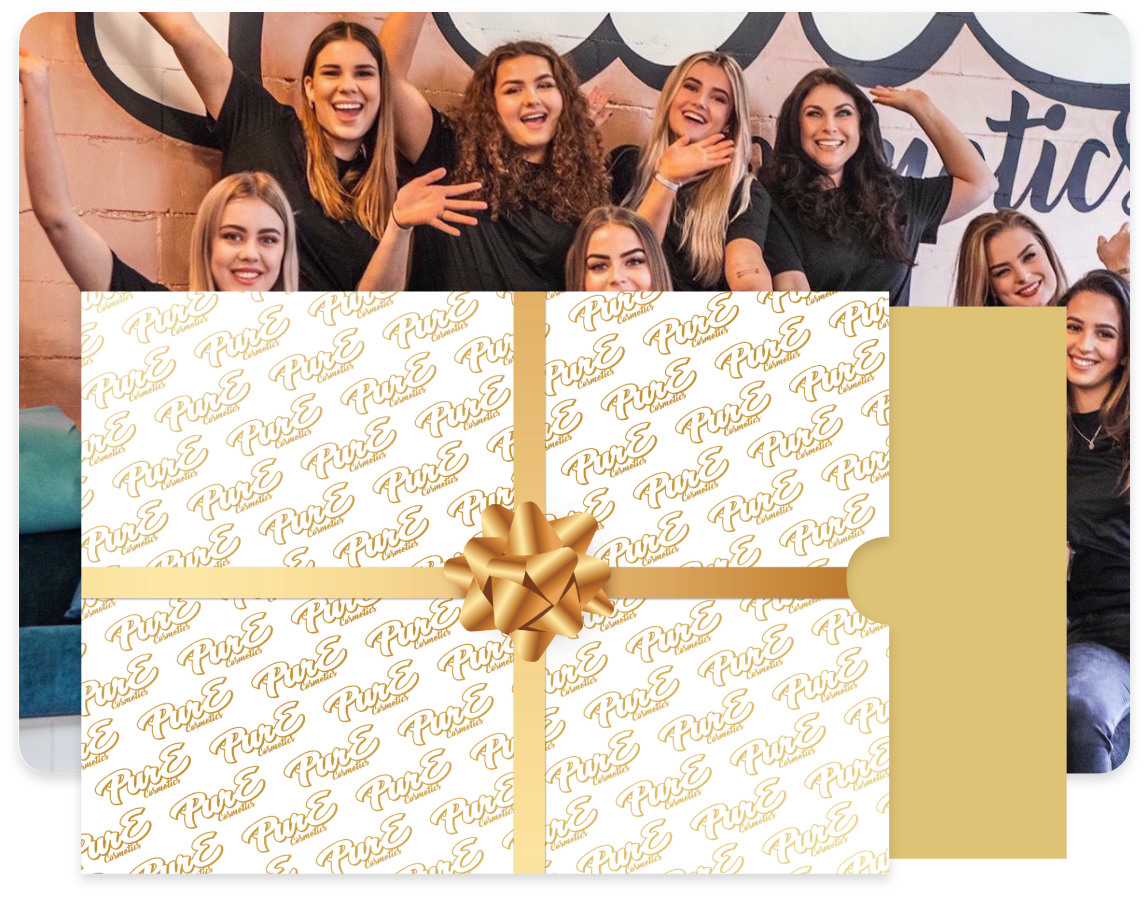 Gift vouchers in your wellness
Of course you also sell the gift vouchers in your salon. It would be a shame to let that extra turnover lie. With a stylish presentation on the counter, you sell at least 30% more gift vouchers. You top up the cards yourself with any amount or a delicious treatment. And the counter display, we will gift you that for free.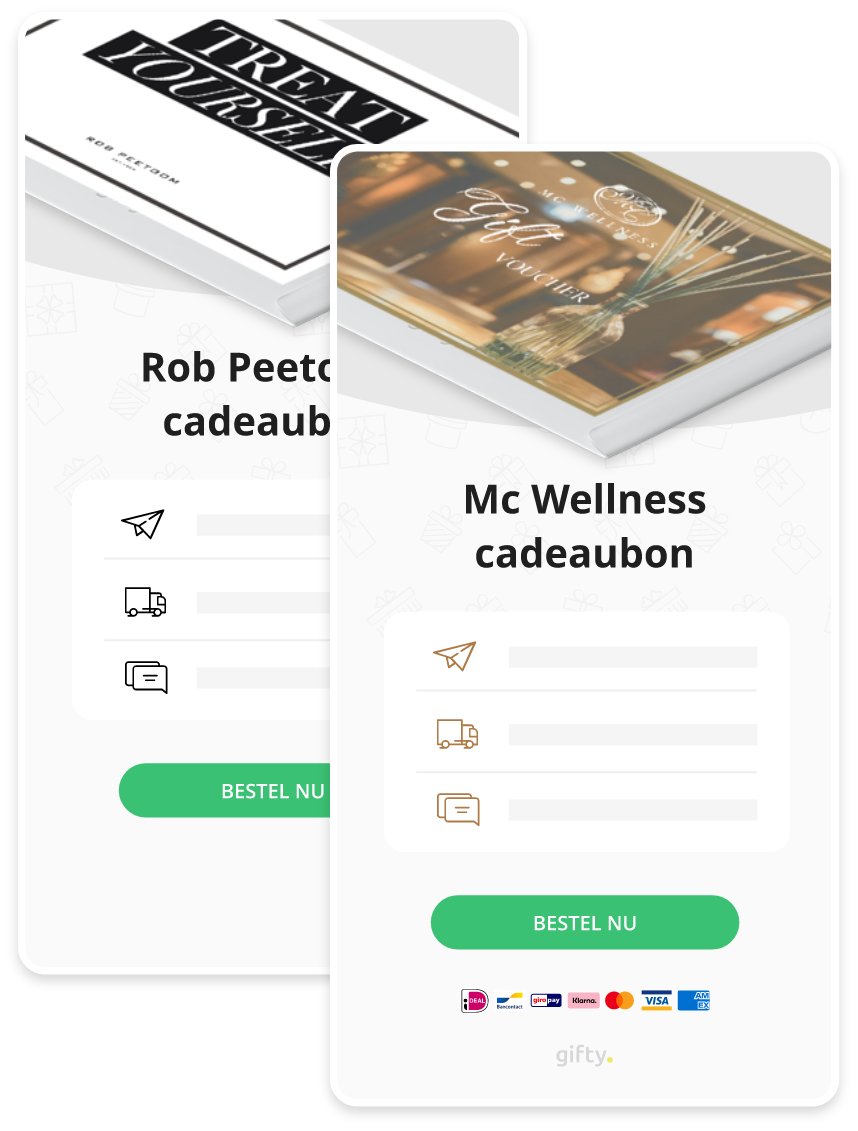 Always open
Your gift card is now for sale 24/7. Useful for anyone who is busy, forgetful or just attentive. Because online you are always open and this gift is ordered quickly. Another great thing: as an entrepreneur you don't have to do anything about it. With our order module it goes completely automatically. Calls and e-mails about gift vouchers are allowed to us, new customers to you. Isn't that a relaxed proposition?
Flawless administration
Get rid of scary excel sheets, self-created codes and other hassles. We make it easy for you by neatly registering all gift vouchers. This way you always have a correct administration and you can see in real time how you are doing. How many gift cards have been sold and redeemed? What have they brought in and how much is still open? Piece of cake.
"
The coupons were delivered super fast and nicely wrapped. Very surprised.
"
jaen***@r**.nl
Easy to give as a gift
Getting a gift voucher from your spa or salon is of course great, but giving it is also fun. And easy too because everyone can do it. With the order module on your site, it's easy. And the lucky recipient? He will receive it directly in his mailbox or festively packed on the doormat. Hurrah!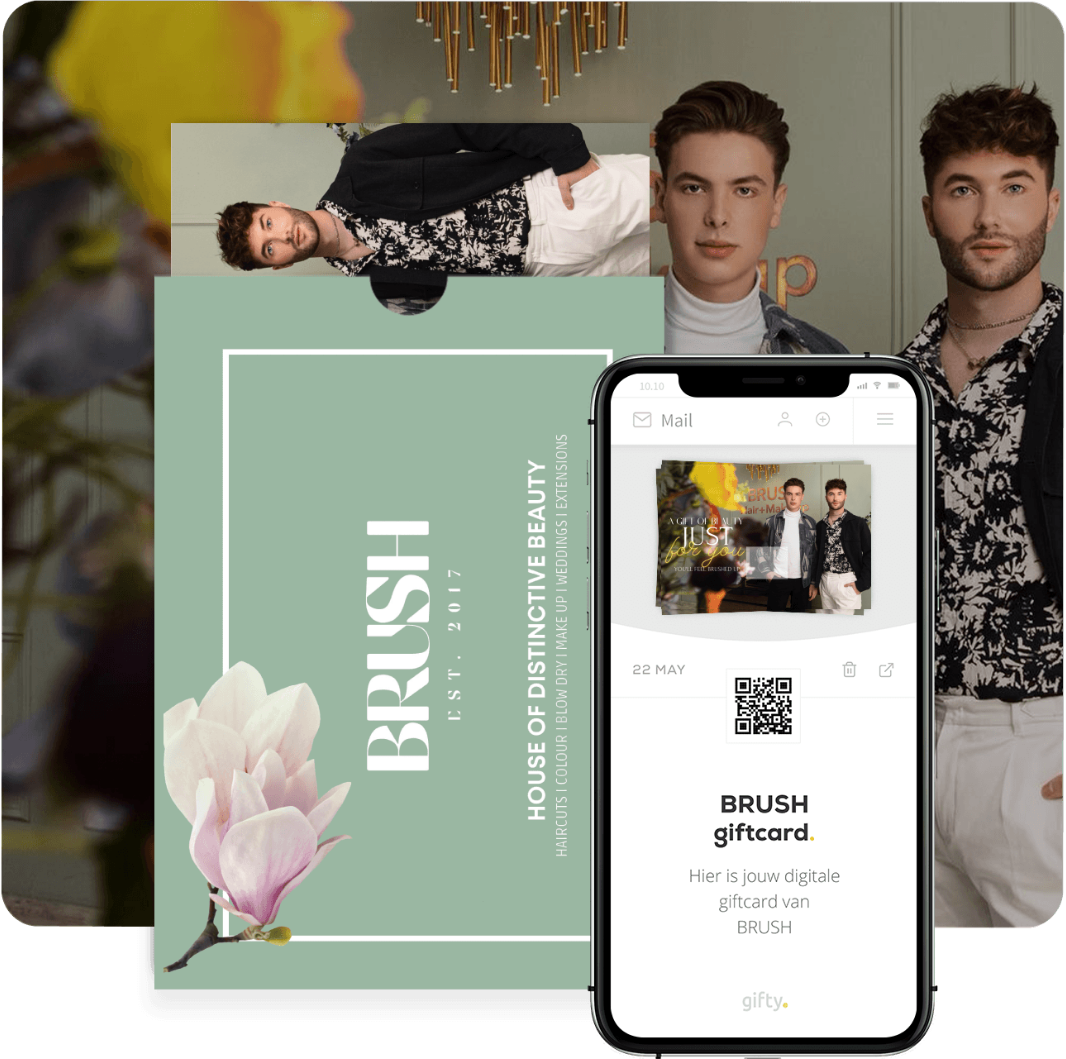 the looks
We have to admit, we also love the exterior. That is why we print the most beautiful gift vouchers on heavy high-quality paper with a silky coating. We pack the physical card in a sturdy sleeve of wood-free paper. But our digital voucher is also on point; it splashes off the screen and can be proudly emailed to the lucky recipient. You can also print the gift card and give it in person. You design the gift voucher yourself in your own house style. Need help? Our designers are happy to help you. And free. That's what we like. Get samples
Amount or package
Of course, you decide which gift vouchers you offer. An amount of choice? Or a complete package such as a beauty treatment, massage or sauna visit? You can easily manage all settings in the dashboard.
"
Very happy with Gifty, they unburden us, work very quickly for the customer and are reliable.
"
Kay Balk | Dutch Ink
Activities per employee
Viewing the finances, adjusting a design or ordering new gift vouchers; not everyone has the same rights. You can easily set the permissions on the dashboard. The transaction overview shows real-time data of sold and redeemed gift cards per employee.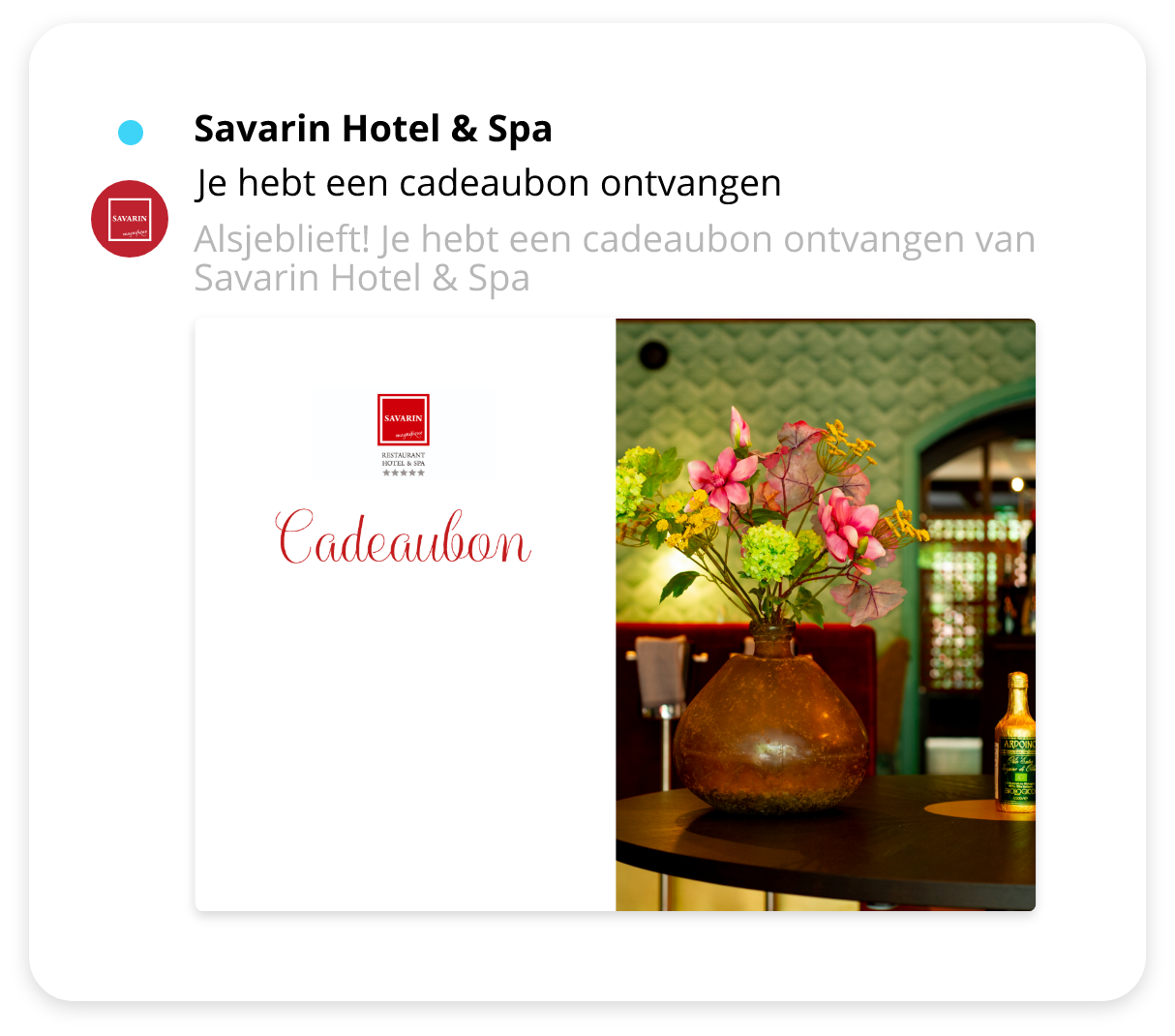 Reward or compensate
Is there a customer you would like to reward or compensate for something? A digital gift card is a nice and easy gesture. Enter the amount and email it directly to your guest.
All gift vouchers are never surrendered. Paid out.
katssjingg
Gifty does not charge variable commissions but a fixed amount per ticket sold. That way you know exactly where you stand. Also nice; we will pay you every gift voucher sold, even if it is not returned. Pssst, did you know that on average 23% of cards are never redeemed?
"
Support is fast and above all personal, always a direct answer if I have a question.
"
Elvira Wilthagen | Eden Hotels
Customer service
Help, I've lost my gift card - is it still valid? - I have a question about the delivery - Did my payment go well? Questions about gift cards take time and are never convenient. Our customer service will gladly take over from you. All questions from guests can be sent to us. By mail, app, chat or telephone; Gifty handles it nicely. check.
Just connect
Accept gift cards in your webshop, reserve online or integrate them to your cash register. It's all possible with our integrations. Prefer to develop yourself? Have fun with our API.
Whether your customers are happy with Gifty?
"The gift cards were delivered super fast and nicely wrapped. Very surprised."
jaen***@r**.nl
"Super easy, I'm not handy with these things but this goes without saying."
M Haren
"The gift card from JEU de boules bar directly in my mailbox, great!"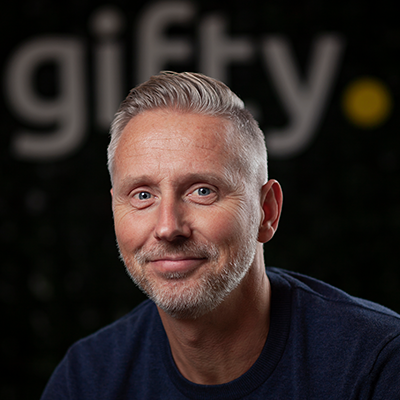 Would you like to know more about our gift voucher solutions for Beauty & Wellness?
Call, mail, chat or app with our own beauty; sjon. Relaxed guest.