One Gift Card, Multiple Retailers
Interested in a municipal gift card that can be redeemed at various local businesses? It's an excellent initiative, especially for supporting local entrepreneurs. But how do you handle sales, logistics, and administration? Worry not, we've got you covered. Allow us to guide you through the entire process, step by step. Our expertise is yours to share.
"
The 'Doe Dordrecht Gift Card' is truly valuable for our local businesses.
"
Danny den Braber | Dordrecht Marketing
#ShopLocal
#SupportYourLocals
With a bespoke municipal gift card, you can boost loyalty, increase spending, and raise your community's profile. The cardholder will have the freedom to choose—from visiting a local theatre to shopping for a new outfit or dining at one of the participating local establishments.
Seamless Redemption
Retailers can effortlessly redeem gift cards via our Gifty app, dashboard, or directly at the till. This ensures each card is used only once, eliminating the possibility of fraud. Real-time analytics will show you which retailer has accepted which amount in gift cards. Schedule a demo to learn more.
Easy Payouts
Paying your participating businesses couldn't be simpler; select the desired time period, download the SEPA file for your banking software, and make all payments at the click of a button.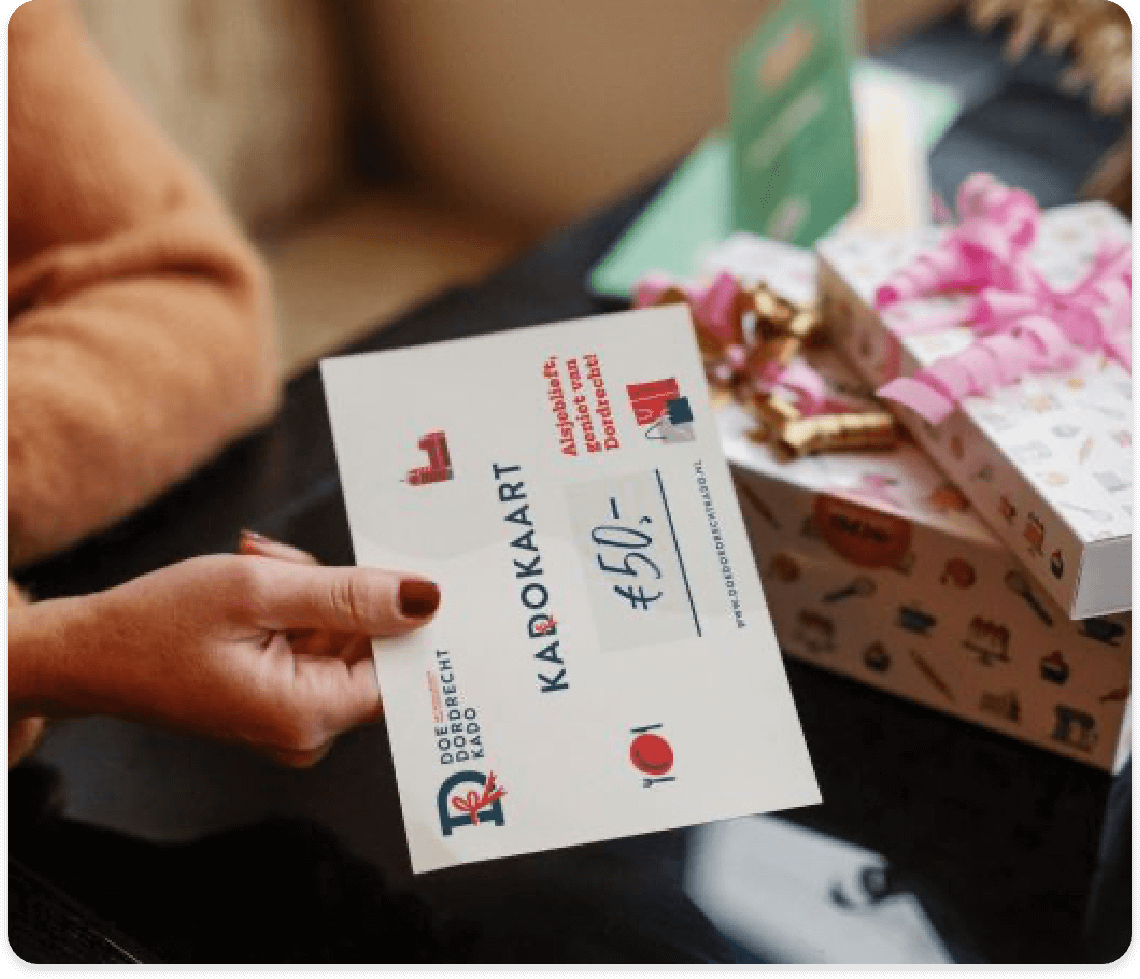 Flexible Spending
Whether it's fresh pastries from the local bakery, quality meats from the butcher, or perhaps even a visit to a local museum, the options are endless. The gift card can also be redeemed in parts, offering more freedom to the cardholder.
"
The IJsselstein Gift Card is redeemable at 100 local retailers. A win-win for both residents and businesses.
"
Simone Doup | Gemeente IJsselstein
Forgotten Gift Cards
It's great when all gift cards are used, but some inevitably end up forgotten in a drawer. Not to worry — by setting an expiration date, you can reclaim the unspent balance after a minimum of two years.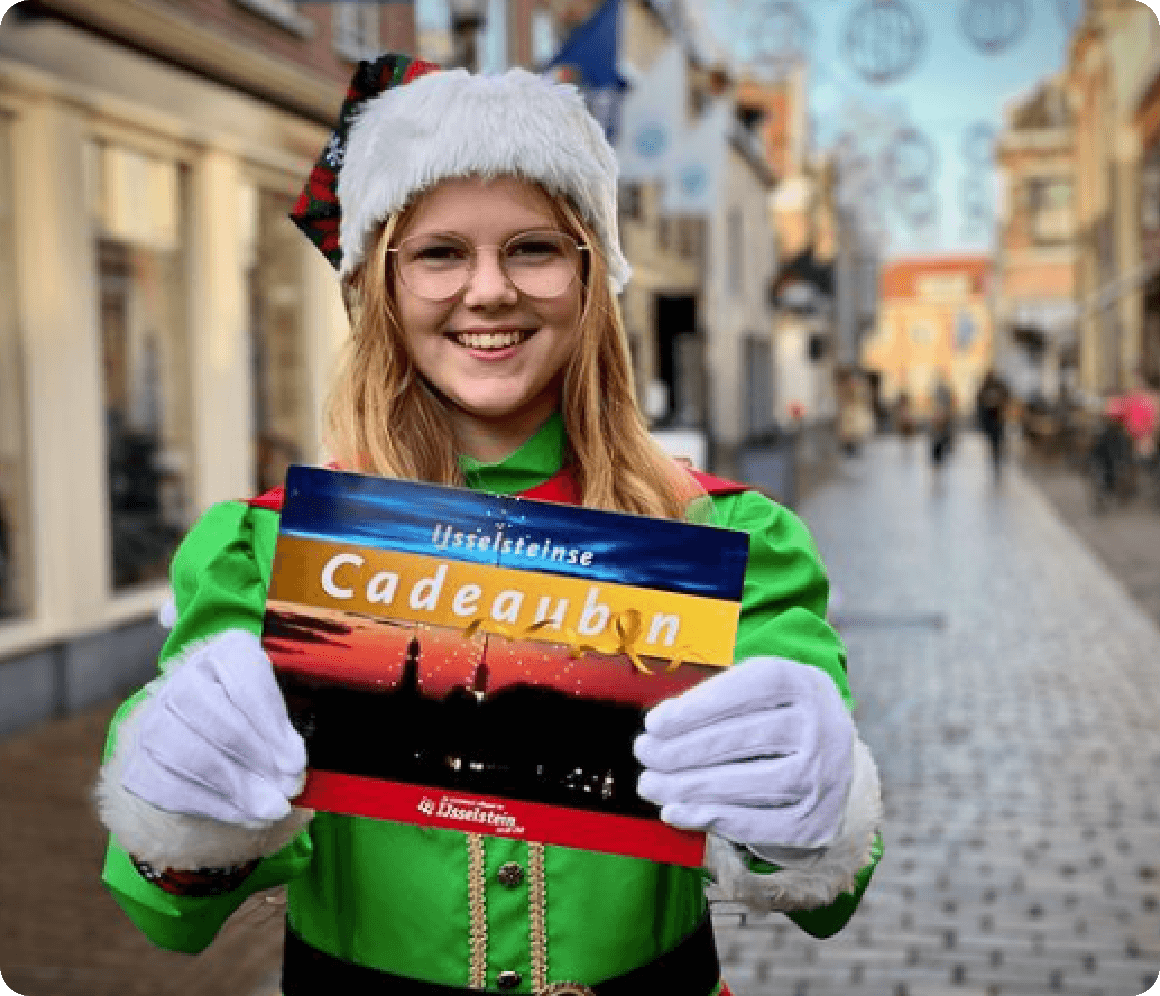 Available at Multiple Locations
Interested in selling gift cards at physical locations? We've got it sorted. Cards are automatically associated with the appropriate outlet. Inventory and point-of-sale options are easy to set up, and all transactions appear in real-time in your financial overview. It's that simple.
Tailored to Your Needs
Do you have specific ideas or requirements for your municipal gift card? We at Gifty are all ears. We are open to suggestions and always keen to improve. You are most welcome to discuss your ideas with us.
Always Open
Your community's local gift card is now available 24/7, making it convenient for everyone — busy or forgetful, yet thoughtful. And with our order module, the entire process is automated. Any inquiries about gift cards can be directed to us, leaving you to enjoy the accolades from your satisfied residents. How does that sound?
"
Our Hoeksche Waard Gift Card sets us apart and boosts local commerce.
"
Bram de Jong | Detailhandelsraad Hoeksche Waard
The Complete Package
For municipalities, we offer beautifully designed gift cards and festive, durable packaging that aligns with your branding. These can be purchased at the town hall, other locations, and, of course, online. Leave the ordering, payment, and shipping to us. We make the process smooth from start to finish.
The Looks
We believe in quality inside and out. That's why our gift cards are printed on heavy-weight, silk-coated paper and come in a sturdy FSC-certified sleeve. Our digital cards are equally eye-catching and can be proudly emailed to the lucky recipient. Need design help? Our designers are happy to assist—free of charge. Get samples
"
The support is quick and still personalized; I always get immediate answers to my questions.
"
Elvira Wilthagen | Eden Hotels
Customer Service
Lost your gift card? Is it still valid? Have a question about delivery or payment? Queries about gift cards can be time-consuming. Our customer service team will gladly handle all such inquiries via email, chat, or phone.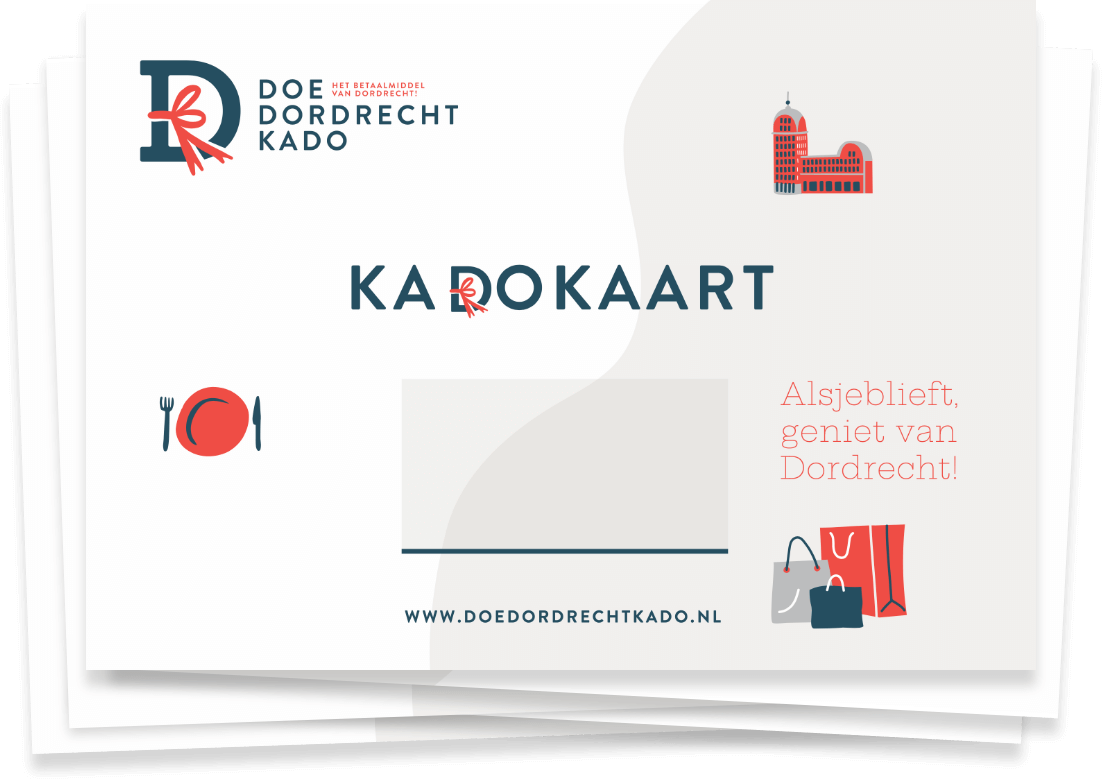 Bulk Orders
Closed a sizable deal with a business, charity, or sports club? Fantastic! You'll need a large number of physical gift cards. No problem, we will print and send the cards with activated value directly to your client, securely and promptly.
Whether your customers are happy with Gifty?
"The gift cards were delivered super fast and nicely wrapped. Very surprised."
jaen***@r**.nl
"Super easy, I'm not handy with these things but this goes without saying."
M Haren
"The gift card from JEU de boules bar directly in my mailbox, great!"
b***ald@b**.com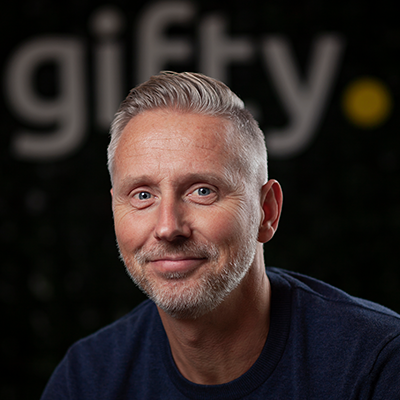 Would you like to know more about our gift card solutions for municipalities?
Please feel free to reach out to Sjon. Emailing, chatting, or sending a message. Your call.