App and dashboard
Selling the gift cards, redeeming and stock management; you can arrange it all via the dashboard and in the app. Here you can also easily change the design of your gift card and check the real-time statistics. How convenient is that!
"
Everything runs smoothly with Gifty's support and software.
"
Bram de Jong | Detailhandelsraad Hoeksche Waard
Redeem and spend easily
Not only selling your gift cards, redeeming them is also easy. Does a customer want to spend their balance in parts? No problem with the dashboard, the Gifty app or your POS system.
Settings
Your Gifty environment is bursting with useful settings. For the order module, payment options, package deals and statistics, for example. But also for setting authorization per employee or automatic stock management. You name it. Curious how it works? Request a demo.
Design
You can customize the design of your gift card yourself with our design tool. This is easy and works even without technical knowledge. What's also possible: upload a print file in your corporate identity. Check.
"
All the work has been done for you and immediate insight into how many gift cards you have sold.
"
Yvonne Littooij | Stayokay
Real-time insight
Curious about how you're doing? All gift card data are available in real-time. From both your tickets which are issued online and in-store. View your results by location, by period or by employee. Everything ready right away.
To order
You can easily order new physical gift cards and wrappings via the dashboard. Or set them to restocking before they run out. Useful! Digital gift vouchers can be downloaded or sent directly by e-mail.
Define the rights of up to 500 employees.
Employees
Are your employees only allowed to redeem or also sell gift cards? And can everyone see the finances? You can easily set those permissions yourself. This makes fraud a thing of the past.
Multiple locations
Do you have multiple locations where your gift card can be purchased or spent? Then you will be happy with our transfer overview. This way, you can see exactly how much was sold and returned per location per period.
Gifty.nl/offer
Do you also want to offer your gift card for sale on Gifty.nl/offer? This is possible and costs nothing extra. Fill in information about your business and set your keywords so that you are optimally found. Bingo!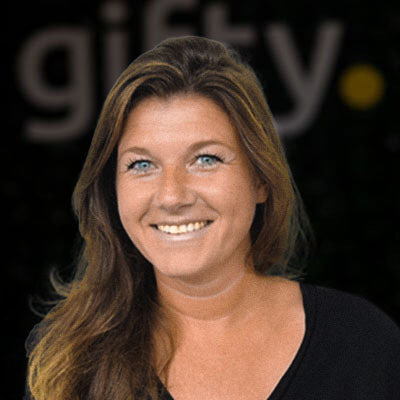 Want to know more about our app and dashboard?
Yes? We already thought so! Loes is eagerly waiting for your message. She is available via email, chat, app and call.