Digital gift cards
You can simply create digital gift cards yourself, quite simply with any amount or package deal you want. Download, email directly, individually or in large numbers, anything is possible!
"
It is convenient for our business that they can mail gift cards directly to guests themselves.
"
Natascha Heemskerk | 3WO
Reward or compensate
Do you want to reward your customer properly? Or maybe compensate for something? A digital gift card is then a nice and easy gesture. Just fill it in yourself and email it directly to your customer. Appreciated!
Ideal for marketing
Nice tool, that dashboard. And not just for adjusting amounts and arrangements yourself. It's also ideal for your own marketing; now you can easily surprise your customers with a gift. For example, email them a gift voucher for a free cup of coffee or a half-price treatment. Fun to do and nice to get!
Per piece or in large numbers
Do you have a big order for digital gift cards from your business? Great! You can create them yourself via the dashboard; enter the amount or the package deal you offer.
The look
The layout of your digital gift card is the same as the email gift card. In PDF format and in your corporate identity. Curious?
"
Gifty works simply and quickly. Everything from A to Z arranged within minutes.
"
Nico van Leeuwen | The Seafood Bar
Download or email
You can download your digital gift cards in PDF or send them directly from the dashboard. To one addressee or many email addresses, just as easy.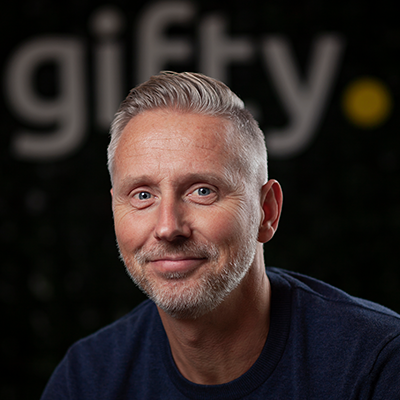 Want to know more about digital gift cards?
Bring it on; Sjon is ready for chat, mail, WhatsApp and telephone. Seriously, that boy can do things.