One gift card, multiple acceptors
A gift voucher from your municipality that can be spent at various merchants? Good idea, also for supporting local entrepreneurs. But how do you arrange sales, logistics and administration? No problem, we do that. We are happy to take you through the entire process, step by step. Our experiences are there to share.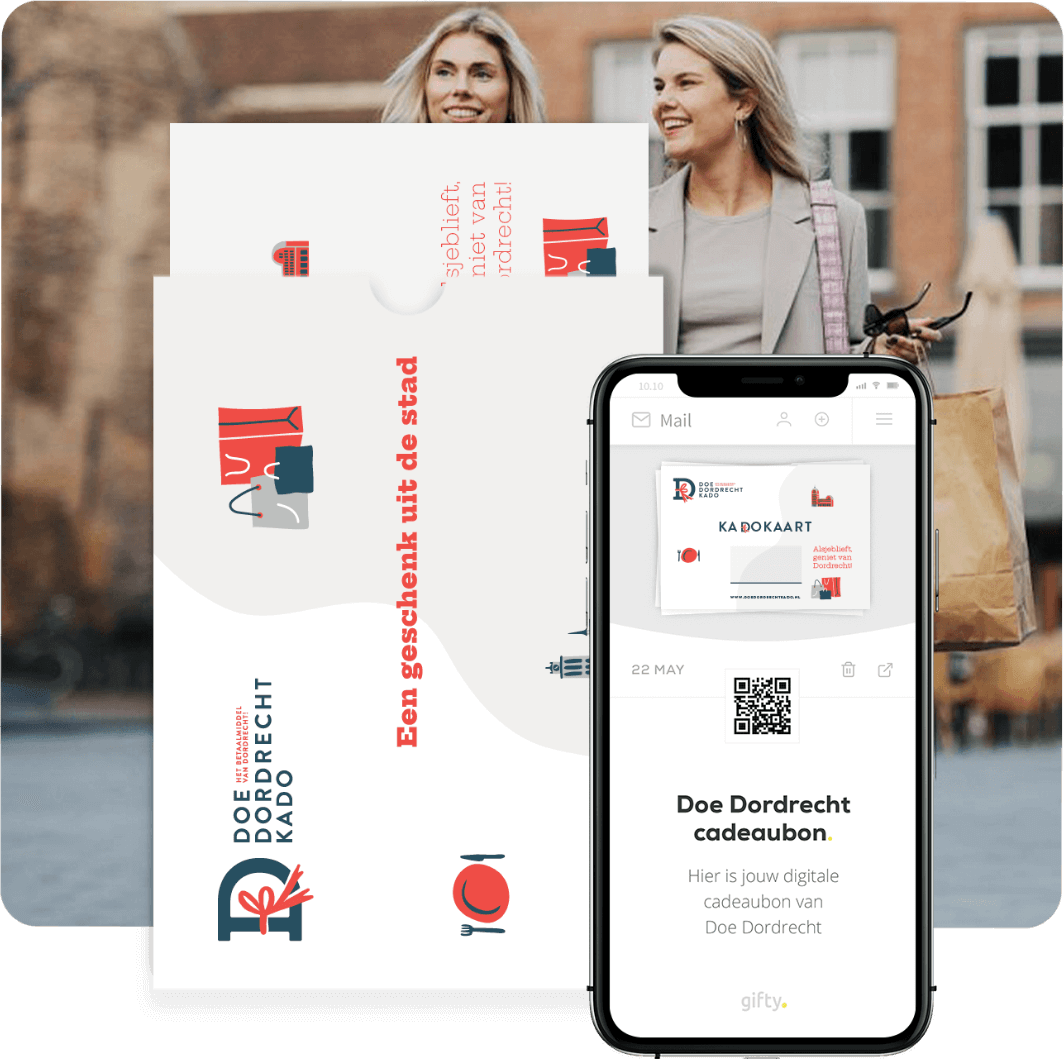 "
The 'Doe Dordrecht Gift Voucher' is a real added value for our entrepreneurs.
"
Danny den Braber | Dordrecht Marketing
#buylocal
#supportyourlocals
With your own gift voucher you increase the loyalty, spending and visibility of your municipality. Give the recipient a choice of a visit to the local theater, a new outfit or spending at one of the other affiliated merchants.
Easy redemption
All acceptors can easily redeem the gift vouchers via the Gifty app, the dashboard or the cash register. This means that each card is only spent once and fraud is impossible. You can see in real time which merchant has accepted which amount of gift cards. Request a demo.
Easy payout
We make it easy to pay out money to your merchants; select the desired period, download the SEPA file and pay everyone with the push of a button.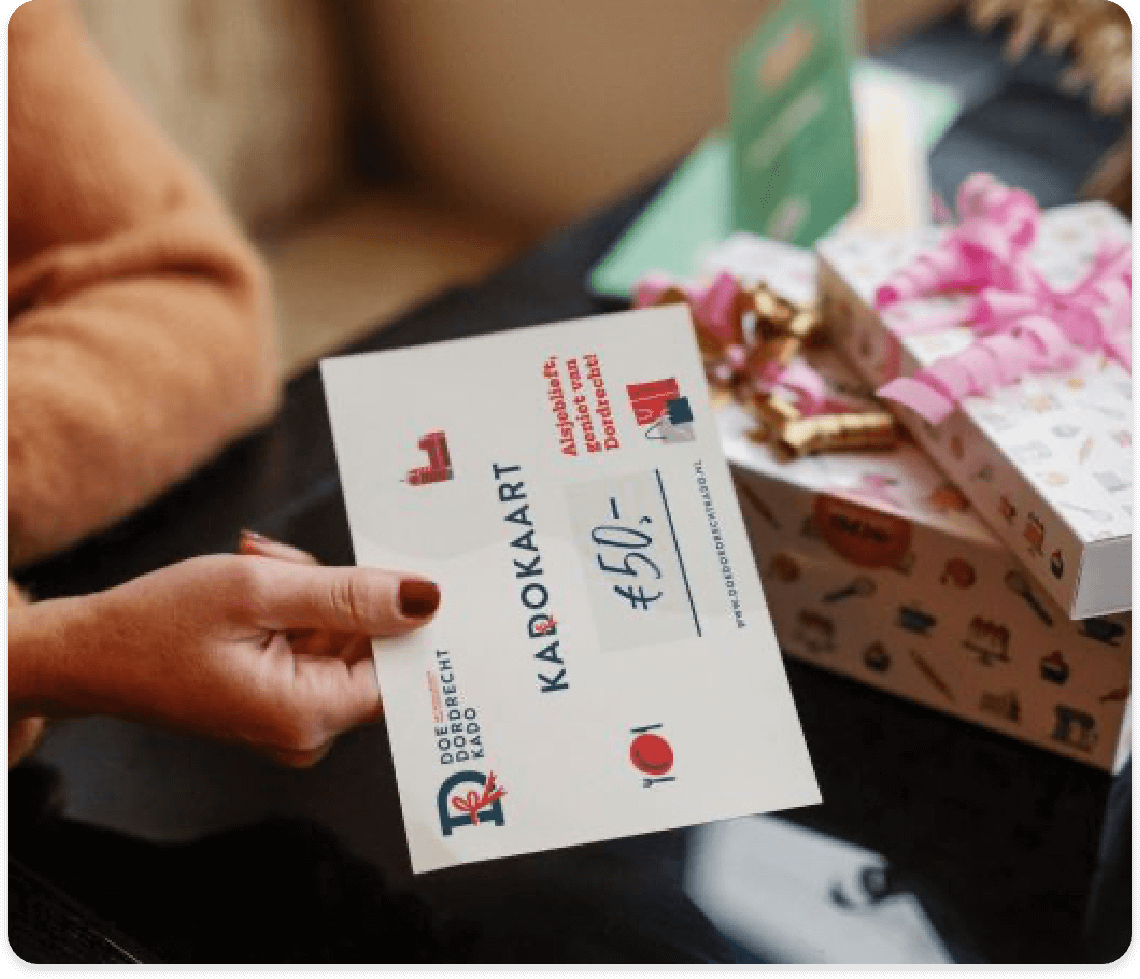 Spend in parts
Something delicious at the bakery, fresh sausage at the butcher and maybe a visit to the local museum? There are many fun options. The gift voucher can therefore also be spent in parts.
"
The IJsselstein gift voucher can be spent at 100 "locals". A gift for residents and entrepreneurs.
"
Simone Doup | Gemeente IJsselstein
Forgotten gift cards
Nice if all gift vouchers are redeemed, but that doesn't always happen. Quite a few gift cards end up forgotten in the kitchen drawer. Don't worry, by setting an end date you can have the release after at least 2 years.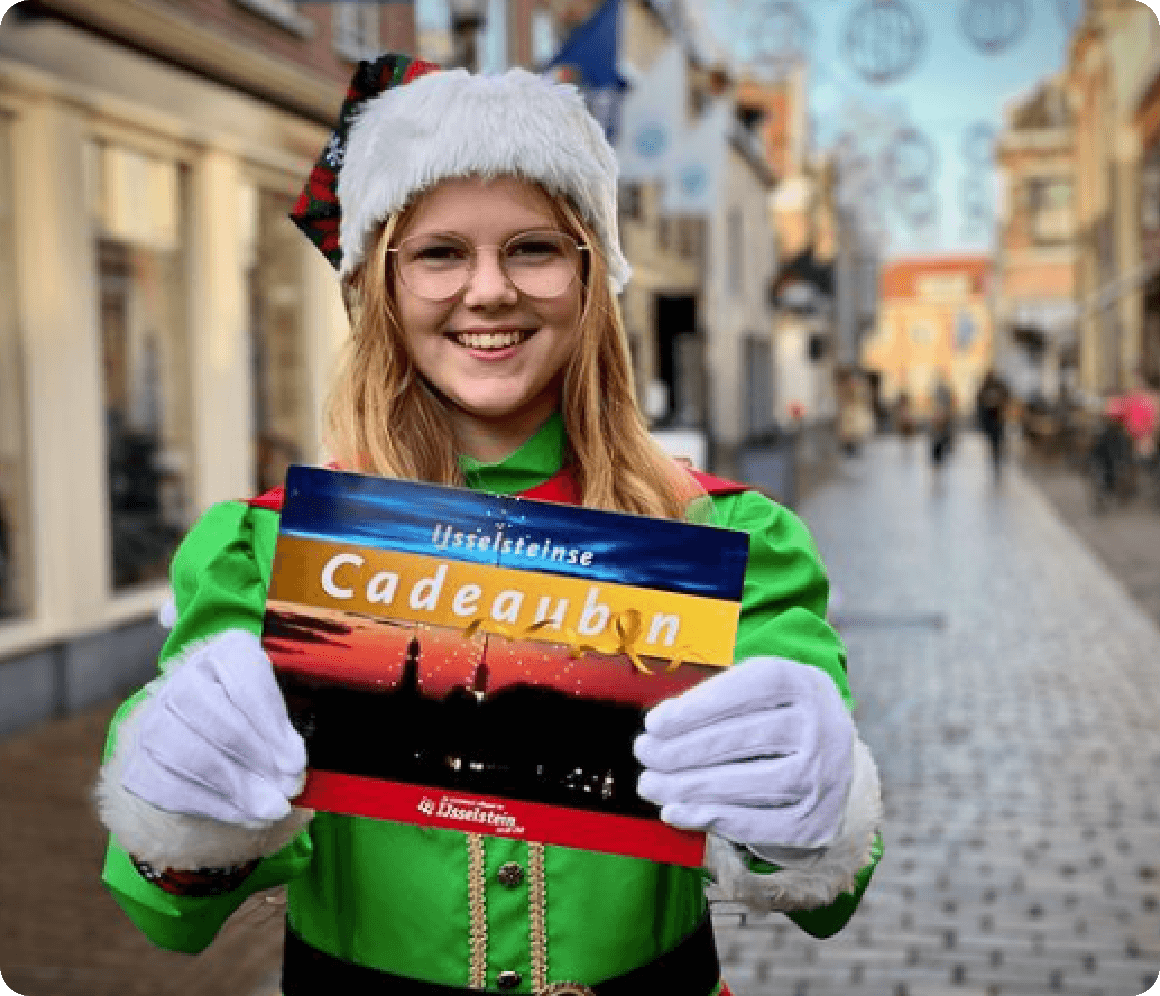 For sale at multiple locations
Do you also want to sell gift cards at physical locations? Which can. The cards are directly linked to the correct location. You can easily set up your points of sale and stock management yourself. Gift vouchers can be topped up with any desired amount and everything appears in the financial overview in real time. It can be that easy.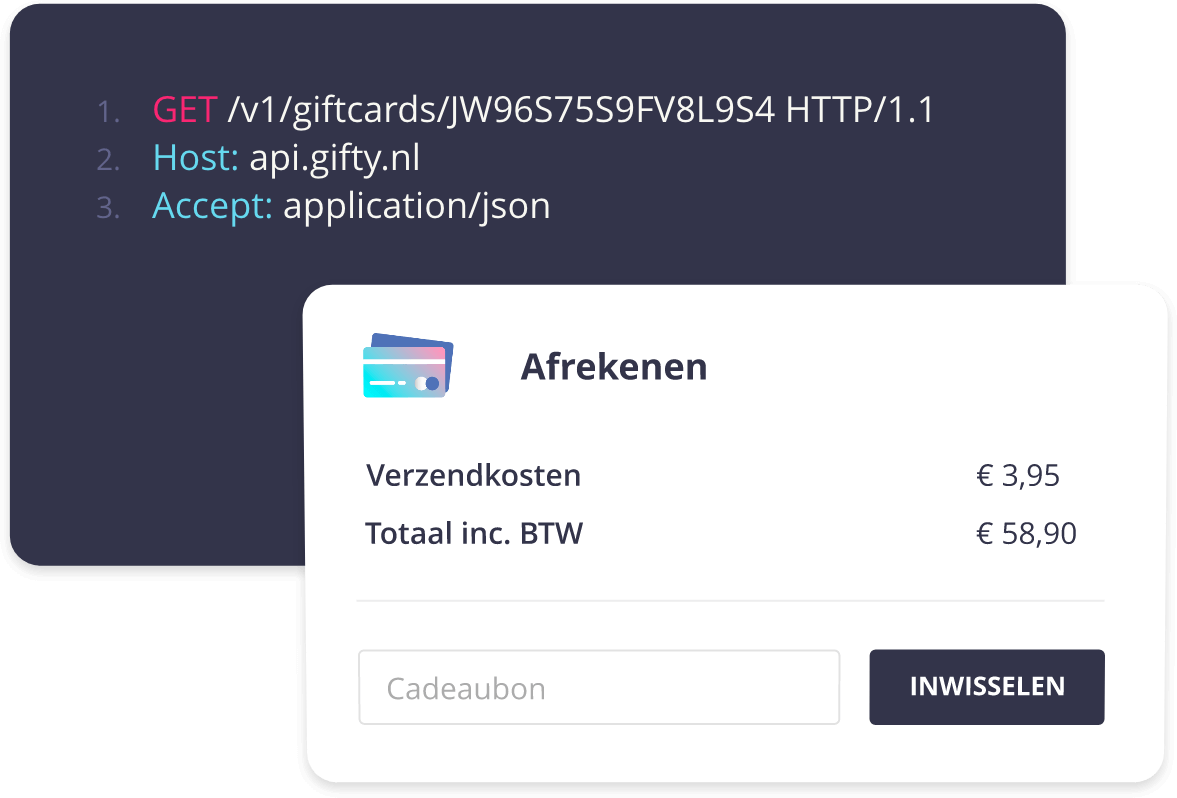 Specific wishes
Do you have specific ideas or wishes about your gift voucher? Nice! we love that at Gifty. Our door is always open for suggestions and improvements.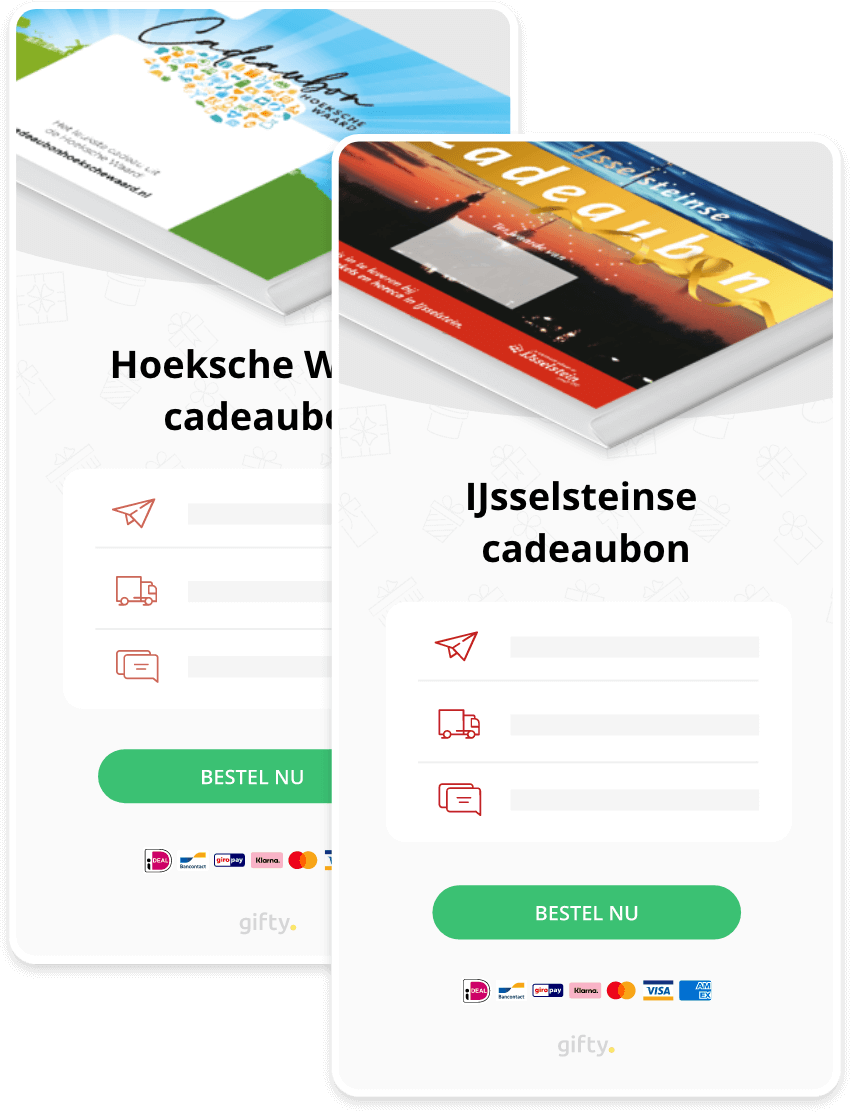 Always open
The local gift card of your municipality is now available 24/7. Useful for anyone who is busy, forgetful or just attentive. Because online you are always open and this gift is ordered quickly. Another great thing: as a municipality you don't have to do anything about it. With our order module it goes completely automatically. Calls and emails about gift vouchers are allowed to us, cheering residents to you. How does that sound?
"
With our Hoeksche Waard gift voucher we are distinctive and locally active.
"
Bram de Jong | Detailhandelsraad Hoeksche Waard
The whole package
We make beautiful gift vouchers and festive packaging in the right house style for municipalities. For sale at the town hall, at other locations and of course online. We arrange ordering, payment and smooth shipping. Sending is done by post or e-mail and directly to the customer. Just leave the entire process to us. Score points wirh your customers.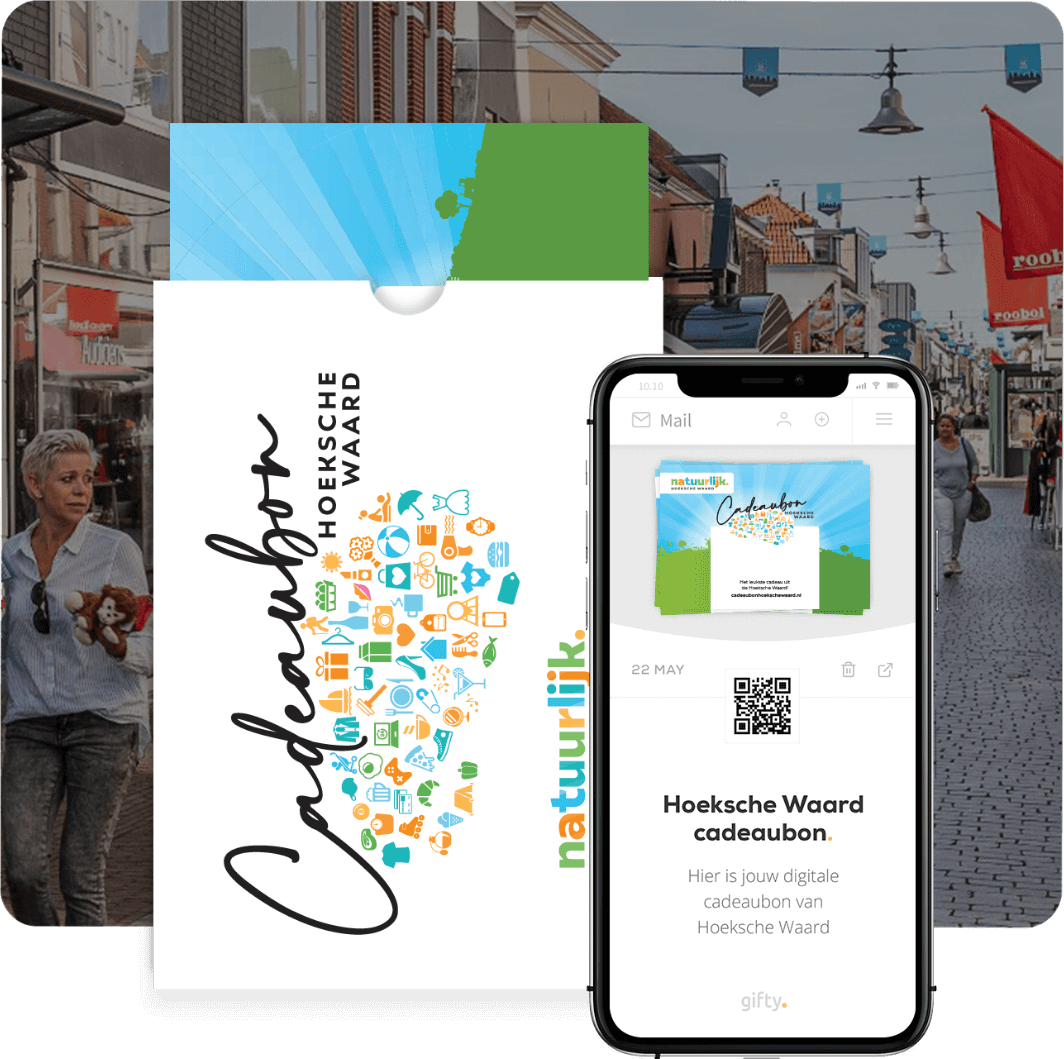 the looks
We have to admit, we also love the exterior. That is why we print the most beautiful gift vouchers for municipalities on high-quality heavy paper with a silky coating. We pack the physical card in a sturdy sleeve of wood-free paper. But our digital voucher is also on point; it splashes off the screen and can be proudly emailed to the lucky recipient. You can also print the gift card and give it in person. You design the gift voucher yourself in your own house style. Need help? Our designers are happy to help you. And free. That's what we like. Get samples
"
Support is fast and above all personal, always a direct answer if I have a question.
"
Elvira Wilthagen | Eden Hotels
Customer service
Help, I've lost my gift card - is it still valid? - I have a question about the delivery - Did my payment go well? Questions about gift cards take time and are never convenient. Our customer service will gladly take over from you. All questions from guests can be sent to us. By mail, app, chat or telephone; Gifty handles it nicely. check.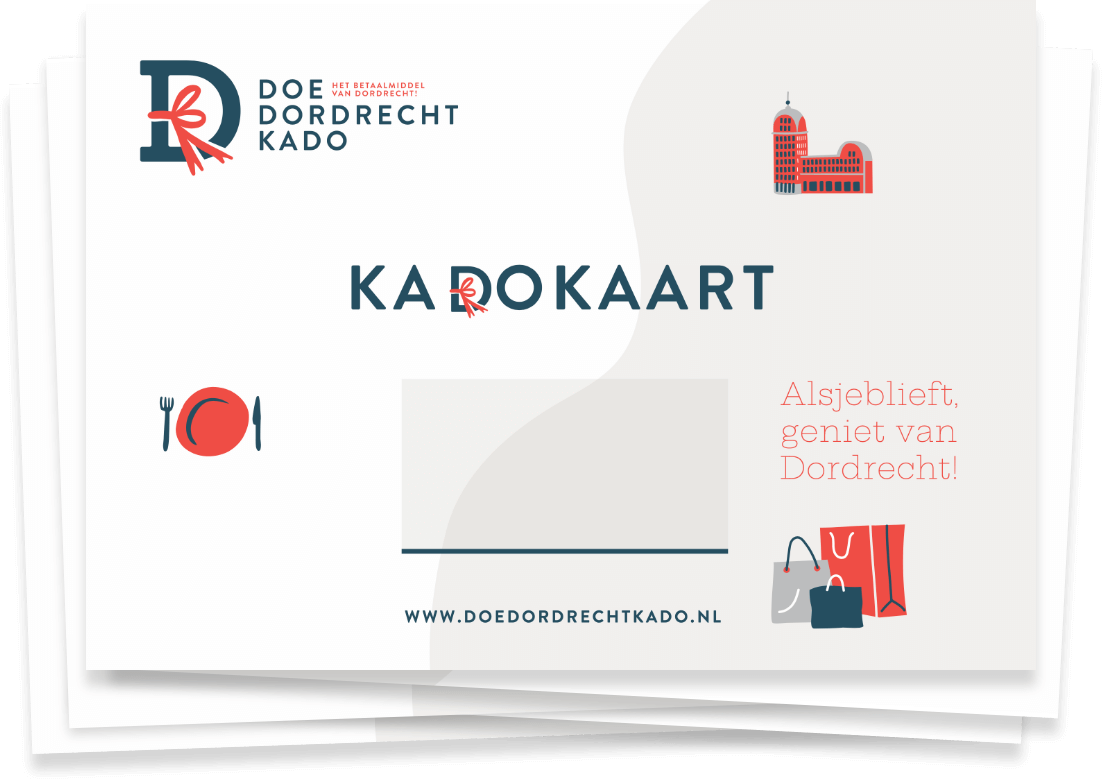 Large orders
Have you closed a nice business deal with a company, foundation or sports club? Nice! Then you need a lot of physical gift vouchers at once. No problem, we'll take care of it. We immediately print the gift vouchers with activated value and send them by registered post to your customer.
Whether your customers are happy with Gifty?
"The gift cards were delivered super fast and nicely wrapped. Very surprised."
jaen***@r**.nl
"Super easy, I'm not handy with these things but this goes without saying."
M Haren
"The gift card from JEU de boules bar directly in my mailbox, great!"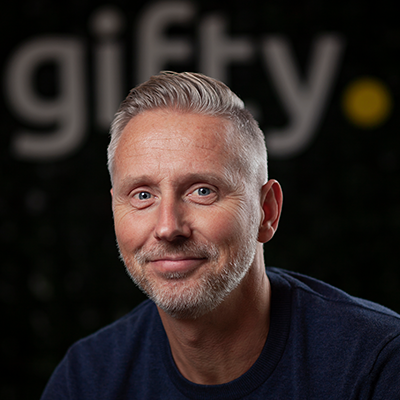 Would you like to know more about our gift voucher solutions for municipalities?
Then call Sjon to discuss this further. Of course you can also email, chat or app.