Fast leisure gift voucher tools
Karting, Jeu-de-boules, racing, play paradise, bowling, gaming, skydiving; all great but even more fun as a gift. That's why you sell digital and physical gift cards that are quite popular. But it can be done smarter, easier and faster. Bet? So that it yields more and takes less time. Are you bouncing with curiosity? we get it.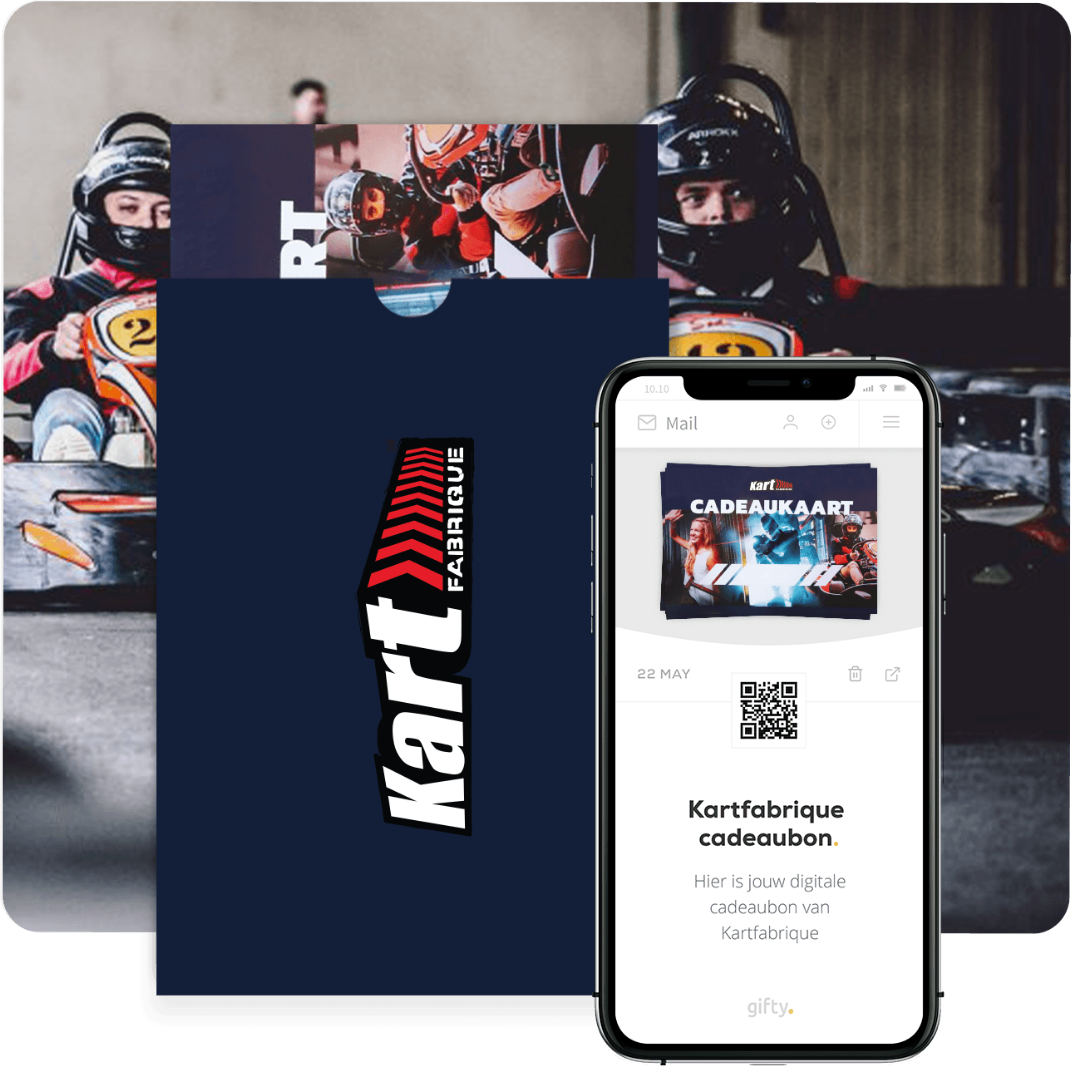 "
Takes a lot of work off our hands and we don't have to worry about it!
"
Christien Meijers | Skydive Teuge
Extra visitors, guaranteed
Assured of extra visitors. How? Simple: the gift vouchers that you sell can only be handed in to you. Make sure that tickets are easily and quickly available on your site and at the counter. The rest - we would almost say - will then take care of itself. But we are happy to help you. With our smart tools and gifting experience in leisure, we love nothing more than… taking action.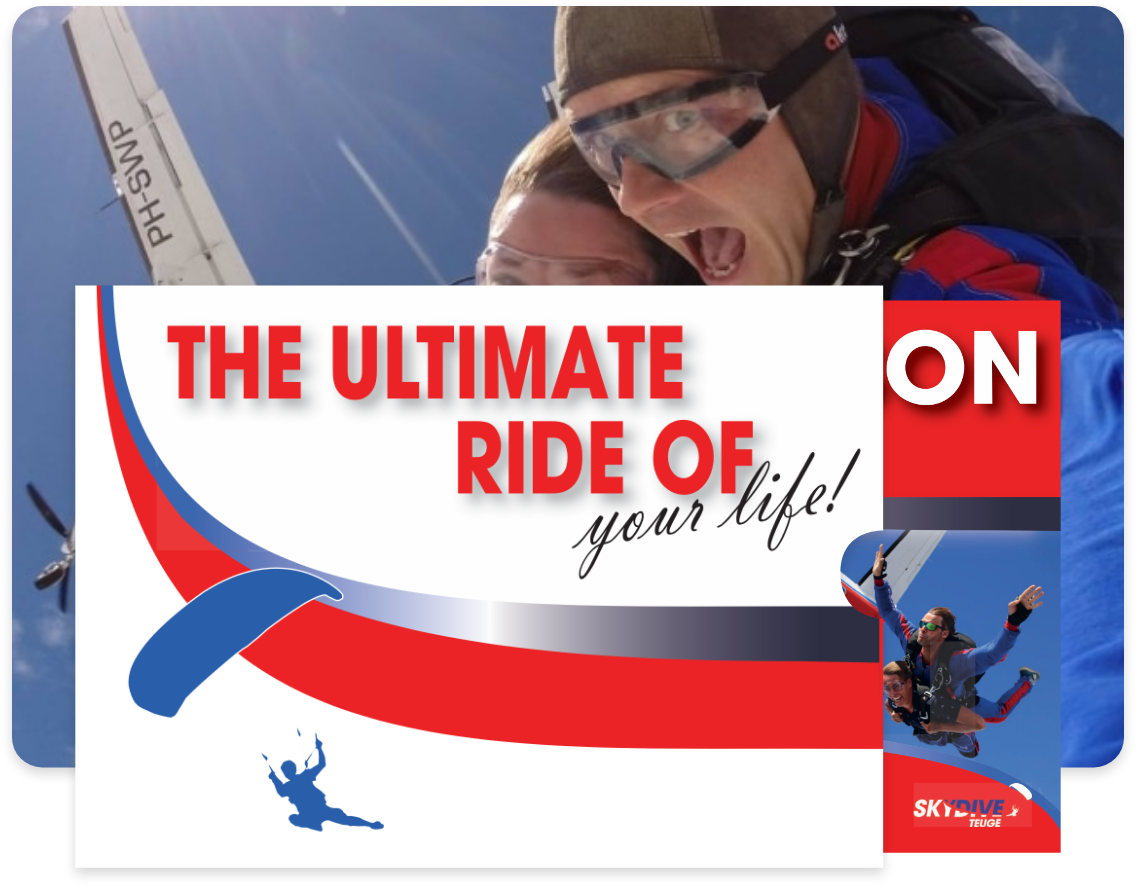 Gift vouchers for sale at the cash register
Don't miss out on sales and also sell your gift vouchers at the cash register. Show them off on your counter and sell 30% more. You set the minimum number at which you want an automatic refill, so it is impossible to misunderstand. You can top up the gift vouchers via the Gifty app, the dashboard or your cash register. You can do this with any amount you want, but also with a great arrangement such as water skiing, bowling or karting.
Book online with your gift card
You can easily accept all gift cards; whether the customer bought it in the store or received it by post or e-mail. With our clear API or one of our plugins, the link with your reservation system is a snap. Oh yeah!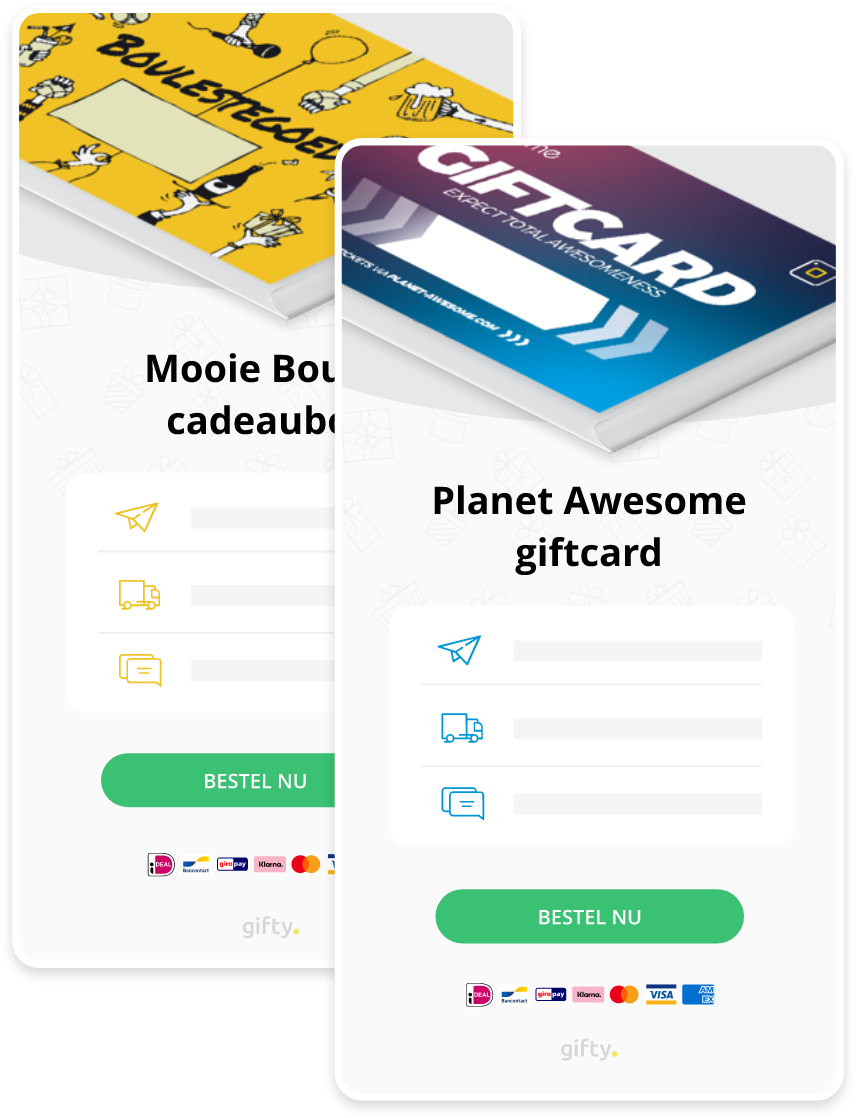 Always open
Your gift card is now for sale 24/7. Useful for anyone who is busy, forgetful or just attentive. Because online you are always open and this delicious gift is ordered quickly. Another great thing: as an entrepreneur you don't have to do anything about it. With our order module it goes completely automatically. Calls and emails about gift vouchers are allowed to us, new customers to you. Sporty proposal, right?
"
A very nice company and a nice system to arrange your gift card service!
"
Floris Boers | Racesquare
Flawless administration
Get rid of scary excel sheets, self-created codes and other hassles. You also want an overview with multiple locations. We make it easy for you by neatly registering all gift vouchers. This way you always have a correct administration and you can see in real time how you are doing. How many gift cards have been sold and redeemed? What have they brought in and how much is still open? Piece of cake.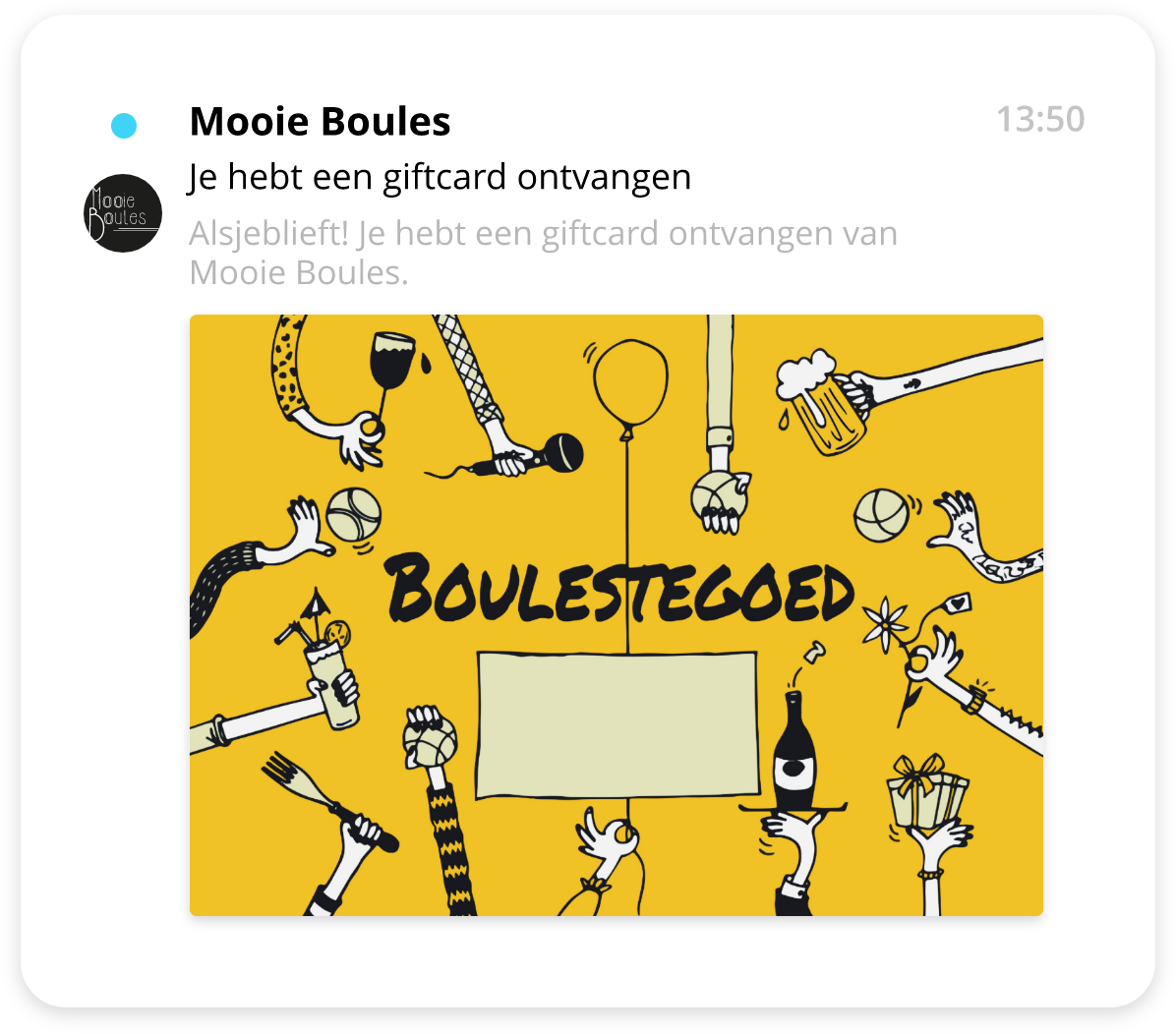 Easy to give as a gift
Getting a gift card is great, but also giving it. It is also easy for your business because everyone can do it, even aunt Toos from Verweggistan. With the order module on your site, it's easy. And the lucky recipient? He will receive it directly in his mailbox or festively packed on the doormat. Hurrah!
"
Tight layout and fast service from Gifty.
"
Ludo Veldman | Electrocross
The whole package
For leisure centers we make beautiful gift vouchers and sturdy festive packaging in the right house style. For sale in your business but also online. We arrange ordering, payment and shipping smoothly. Sending is done by post or e-mail and directly to your customer. Just leave the entire process to us. Score your points with your customers.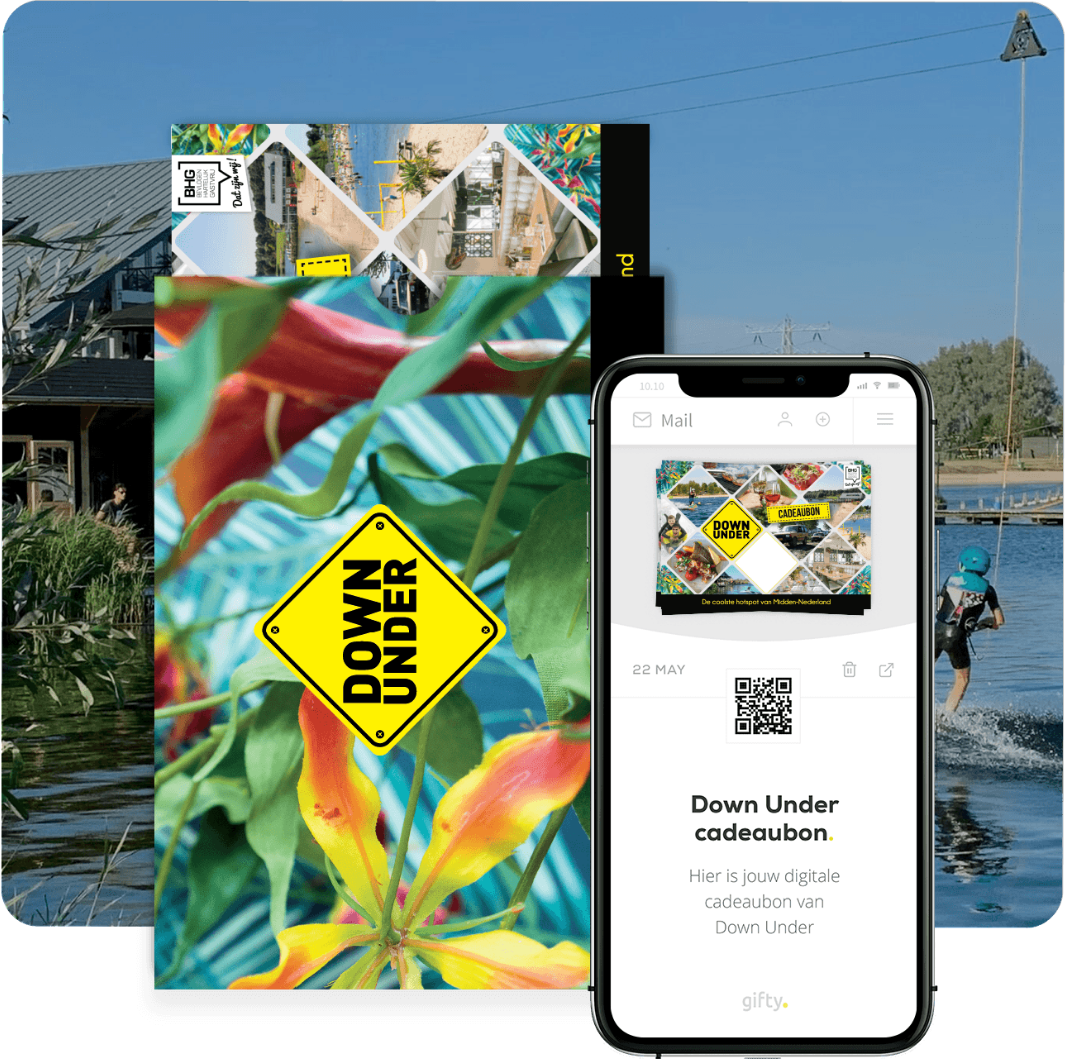 the looks
Admittedly, we also love the exterior. That is why we print the most beautiful gift vouchers for the leisure sector on high-quality heavy paper with a silky coating. We pack the physical card in a sturdy sleeve of wood-free paper. But our digital voucher is also welcome; that splashes off the screen and can be proudly emailed to the lucky recipient. You can also print and give in person. You design the gift voucher yourself in your own house style. Need help? Our designers are happy to help you. And free. We like. Get samples
"
We often use packages, which are most often given as a gift.
"
Mariska Telkamp | Down Under
Amount or package
Of course you decide which gift vouchers you offer. An amount of your choice? Or a complete package such as karting, a workshop or water skiing? You can easily manage all settings in the dashboard.
Determine the rights of up to 500 employees.
Activities per employee
Viewing the finances, adjusting a design or ordering new gift vouchers; not everyone has the same rights. You can easily set the permissions on the dashboard. The transaction overview shows real-time data of sold and redeemed gift cards per employee.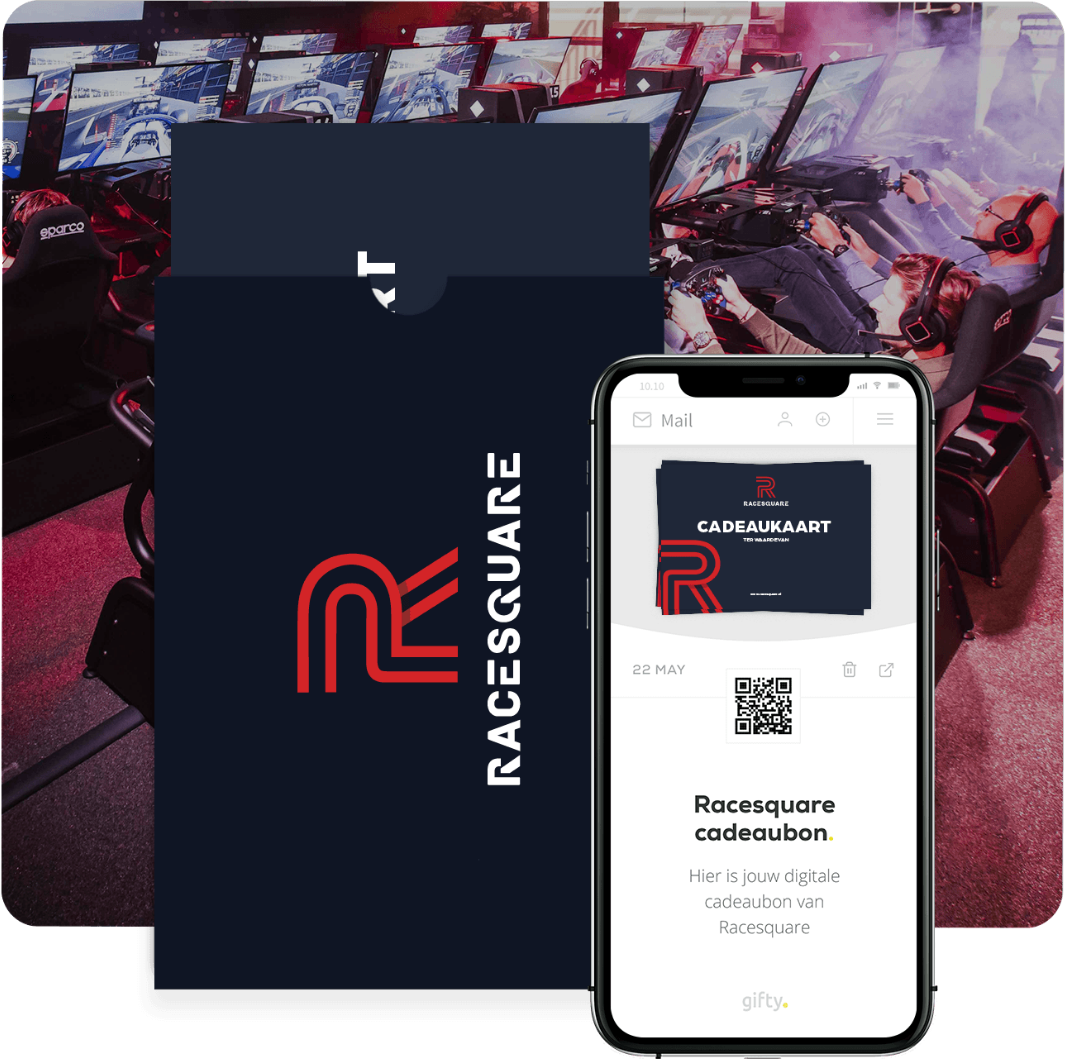 Reward or compensate
Is there a customer you would like to reward or compensate for something neatly? A digital gift card is a nice and easy gesture. Enter the amount and email it directly to your customer. Is appreciated!
All gift vouchers are never surrendered. Paid out.
katssjingg
Gifty does not charge variable commissions but a fixed amount per ticket sold. That way you know exactly where you stand. And what is so beautiful; we will pay you every gift voucher sold, even if it is not returned. Pssst, did you know that on average 23% of cards are never redeemed?
Shipping & Payment
We are happy to think along with you without limits. That's why we send your gift voucher to 11 other countries, pass the problem. We are also flexible in payment methods. iDEAL, credit card, Sofort or Bancontact; we count it right.
"
We are simply very satisfied with your services, simple enough.
"
Fadile Ekiz | Street Jump Mierlo
Customer service
Help, I've lost my gift card - is it still valid? - I have a question about the delivery - Did my payment go well? Questions about gift cards take time and are never convenient. Our customer service will gladly take over from you. All questions from guests can be sent to us. By mail, app, chat or telephone; Gifty handles it nicely. check.
Multiple locations
Can the gift voucher from your leisure center be spent at multiple locations? Or both during an activity and in the restaurant? You want to have that clear. In the dashboard you can see exactly how many vouchers have been sold and taken where.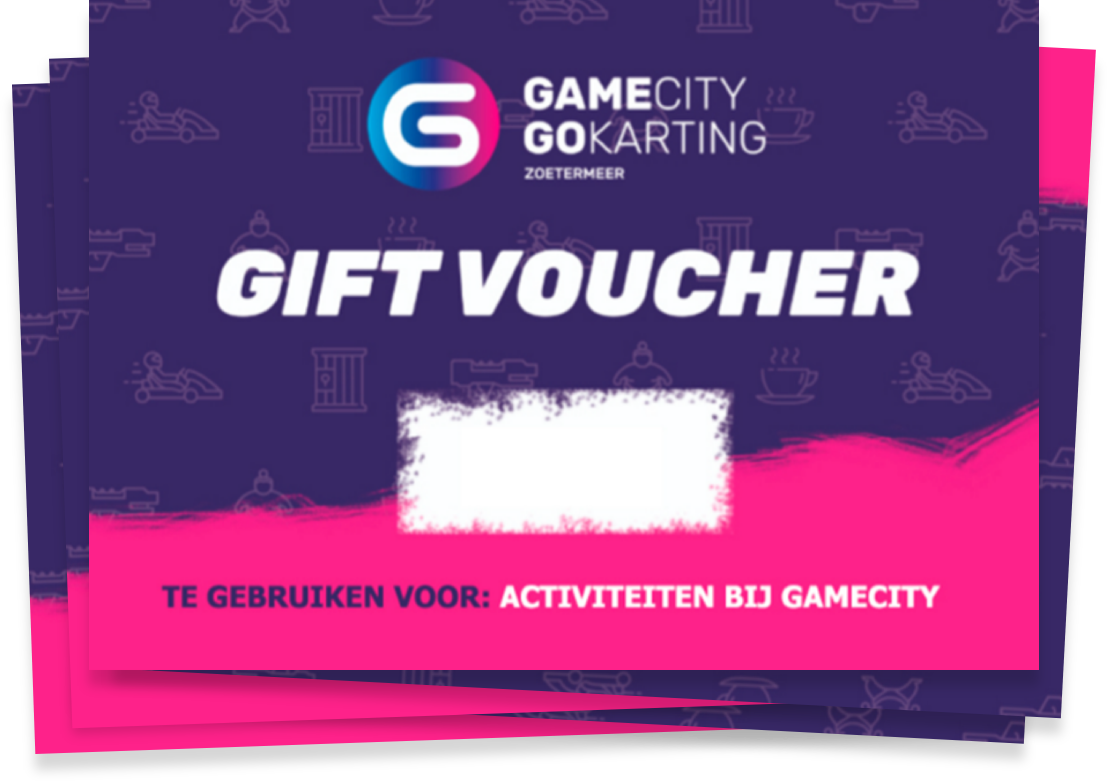 Large orders
Have you closed a nice business deal with a company, foundation or sports club? Nice! Then you need a lot of physical gift vouchers at once. No problem, we'll settle. We immediately print the gift vouchers with activated value and send them by registered mail to your customer.
"
We are very happy about the collaboration with Gifty!
"
Denice Kingma | Mooie Boules
Omnichannel
With physical gift cards, customers can not only pay in your business. The card can also be spent in your webshop or during the online reservation. Or vice versa: with your digital gift voucher a customer can simply pay in the store. Nice, those smart Gifty tools.
Just connect
Accept gift cards in your webshop, reserve online or integrate them to your cash register. It's all possible with our integrations. Prefer to develop yourself? Have fun with our API.
Whether your customers are happy with Gifty?
"The gift cards were delivered super fast and nicely wrapped. Very surprised."
jaen***@r**.nl
"Super easy, I'm not handy with these things but this goes without saying."
M Haren
"The gift card from JEU de boules bar directly in my mailbox, great!"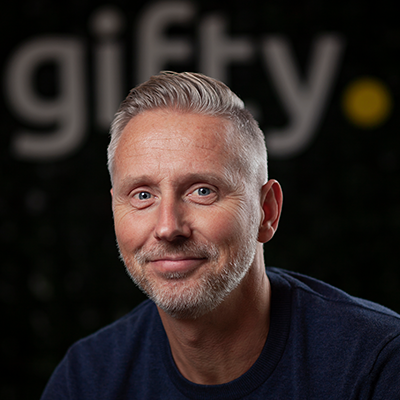 Would you like to know more about our leisure gift voucher solutions for you?
Nice! Call Sjon, who is brimming with energy. You can also email. Or chat, text, carrier pigeon. Watch.